Spiced Fig Syrup

Courtesy of Mason Brangwin, The Old Sage, Seattle, WA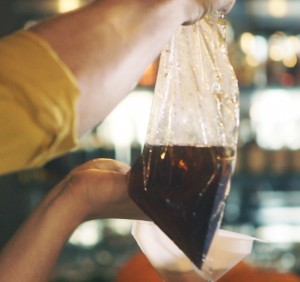 INGREDIENTS
2 cups (350 g) roughly chopped dried figs
2 cups (480 ml) water
2 cups (400 g) Demerara sugar
4 cinnamon sticks
6 pods star anise
15 whole cloves
2 bay leaves
1 teaspoon salt
DIRECTIONS
Fill and preheat the SousVide Supreme water oven to 144F/ 62C.
 Combine all ingredients in a zip-closure cooking pouch and use the displacement method (Archimedes Principle) to remove the air and zip the seal. (Or seal in a chamber vacuum if you have one.)
Submerge in the water oven and cook at least 3 hours, until sugar dissolves (the longer the better.)
Strain into a clean stoppered bottle and chill. Use the syrup in the Spiced Fig Old Fashioned cocktail, mix it into hot tea for a holiday touch, or even pour over ice cream for a festive treat!