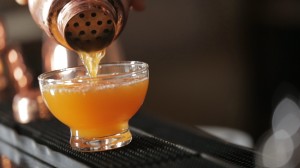 Courtesy of Seth Sempere (Spur Gastropub, Seattle, WA)
INGREDIENTS
1-3/4 ounces (50 ml) blanc rhum agricole*, 100 proof (Rhum J.M. Blanc preferred)
1 ounce (30 ml) sous vide infused Butternut Squash Cordial
1/2 ounce (15 ml) Campari
1/2 ounce (15 ml) lemon juice
1 dash Fee Brothers' aromatic bitters
1 pinch salt
Ice cubes, as needed
DIRECTIONS
Put all ingredients, except ice, into a cocktail shaker.
Add the ice, shake well, and fine strain into a punch cup or cocktail glass.
Bartender's note: Depending on the natural sweetness of the squash, you may want to adjust the amount of lemon juice or bitters to your liking.
*Rhum Agricole is the French term for cane juice rum, a style of rum originally distilled in the French West Indies islands from freshly squeezed sugar cane juice rather than molasses.
Share This Recipe with Friends!