Beef Tongue in Creole Marinade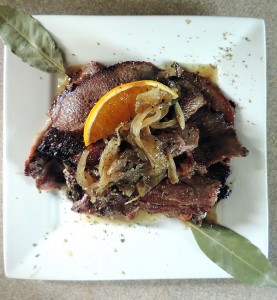 Courtesy of Cher Underwood (Paleo+Life)
Serves 6
INGREDIENTS
1 (3 ½ pounds/1.5 kg) beef tongue
1 medium onion, peeled and sliced into rings
12 cloves garlic, peeled and sliced lengthwise
1/4 cup (60 ml) lemon juice
1/4 cup (60 ml) orange juice
1 teaspoon (5 ml) whole coriander seeds, ground
1/2 teaspoon (2.5 ml) smoked peppercorns, ground
2 teaspoons (10 ml) salt
1 orange, sliced into wedges, for serving
DIRECTIONS
Fill and preheat the SousVide Supreme water oven to 140F/60C.
Wash and rinse the tongue, patting it dry with a paper towel, and put it into a large cooking pouch.
Add onions, garlic, lemon and orange juices, coriander, peppercorns and salt and vacuum seal the pouch, making sure to use the Moist setting. (As the liquid moves toward the sealing chamber, force the seal using Seal Only, if needed, to prevent it from getting into the chamber.)
Submerge the pouch in the water oven to cook for 24 to 48 hours.
Remove the pouch from the water oven. (At this point, if not using right away, quick chill the pouch, submerged in ice water, for at least 30 minutes and refrigerate for up to several days until ready to serve.)
When ready to serve, pre-heat a cast iron skillet over high heat.
Open the pouch and set the tongue aside. Pour the onion-garlic sauce (pouch liquor) into a small bowl. Set aside and cover to keep warm.
Remove the outer covering from the tongue, then slice the tongue horizontally just past its widest point. Slice each section of the tongue vertically into pieces roughly ¼-inch (0.6 cm) thick.
In a heavy skillet on the stovetop over high heat, sear the slices until browned, about 1 to 2 minutes per side.When ready to serve, top slices of meat with the onion garlic sauce, add a wedge of orange to each plate, and enjoy!