Beer Braised Brats Sous Vide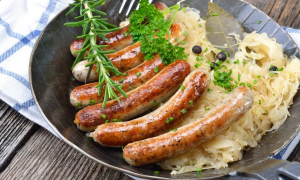 Courtesy of Chef Dylan Benoit (Market Street Group, Cayman Islands)
Serves up to 20
INGREDIENTS
5 liters (10-1/2 pints) porter
5 liters (10-1/2 pints) lager
¼ cup (60 g) salt
¼ cup (50 g) brown sugar
2 tablespoons (28 g) butter
8 to 20 uncooked bratwurst sausages
1 yellow onion, peeled and sliced
4 bay leaves
3 tablespoons (45 ml) fennel seeds
2 tablespoons (30 ml) mustard seeds
2 tablespoons (30 ml) black peppercorns
1 tablespoon (15 ml) caraway seeds
For finishing
1 handful hickory wood chips
8 to 20 brat buns
Spicy brown mustard
Apple Bacon Sauerkraut (recipe follows)
DIRECTIONS
Put the beers directly into the SousVide Supreme water oven.
Dissolve the salt and sugar in the beer
Add all remaining ingredients to the water oven and set to 143.5F/62C.
Cook the sausages for at least 30 to 40 minutes in the beer.
Meanwhile, soak a handful of hickory wood chips in water for 30 minutes
Preheat The Big Green Egg (or your grill) to 300F/150C.
Once The Big Green Egg (or grill) is heated and the sausages have cooked, add wood chips to the Egg and wait for smoke.
Once smoking, remove the sausages from the beer bath and sear them on the grill until colored on all sides, turning frequently so as not to split the casings.
Steam or toast buns and serve with Apple Bacon Sauerkraut and spicy brown mustard
Strain and reserve the beer braising liquid for soup stock.
Apple Bacon Sauerkraut (not a sous vide recipe)
Serves 8
INGREDIENTS
2 pounds (0.9 kg) sauerkraut
1 Granny Smith apple, julienned
½ pound (228 g) smoky bacon, roughly chopped
2 or 3 sprigs fresh thyme, picked for leaves
DIRECTIONS
In a pan on the stovetop, sauté the bacon, briefly, to release some of its fat.
Add all remaining ingredients and sauté for a few minutes more to heat through and soften the apples.
Serve warm.