Cranberry-BBQ Salmon Sous Vide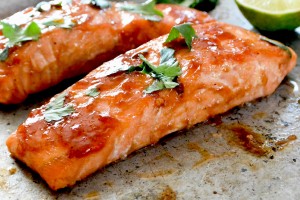 Recipe and photographs courtesy of Liz Harris (Floating Kitchen)
Serves 2
INGREDIENTS
2 ( 5-ounces/145 g each) boneless salmon fillets (skin on or off)
Fresh cilantro, chopped, for garnish
For the marinade
2 tablespoons (30 ml) cranberry sauce (pureed if chunky)
2 tablespoons (30 ml) BBQ sauce
1 tablespoon (15 ml) extra-virgin olive oil
1 tablespoon (15 ml) cranberry juice
1 teaspoon (5 ml) fresh lime juice
1/8 teaspoon (0.6 ml) salt
DIRECTIONS
In a wide, shallow bowl, stir together marinade ingredients.
Remove about 1½ tablespoons (20 ml) of the marinade and reserve it for step 8.
Add the salmon fillets to the bowl and turn to coat them on all sides in the marinade. Cover and refrigerate for 1 to 2 hours.
While the salmon is marinating, fill and preheat the SousVide Supreme water oven to 140F/60C.
Remove the salmon fillets from the marinade, put them into a small cooking pouch, and vacuum seal using the Gentle/Moist setting of your sealer, if available.
Submerge the pouch in the water oven to cook for 25 to 30 minutes.
Meanwhile, pre-heat the broiler to high heat.
Remove the cooking pouch from the water oven and carefully remove the salmon – it will be luscious and delicate!
Put the salmon fillets onto a broiler-safe pan, brush with the reserved marinade and place under the broiler for 1 to 2 minutes, or until the marinade is bubbling.
Remove from the oven and serve immediately with a sprinkling of chopped cilantro, if desired.