Filipino Adobo Pork Belly Steam Buns

…with Sweet and Sour Carrot Slaw
Recipe and photo courtesy of Camille Koppenberg (Camille in the Kitchen)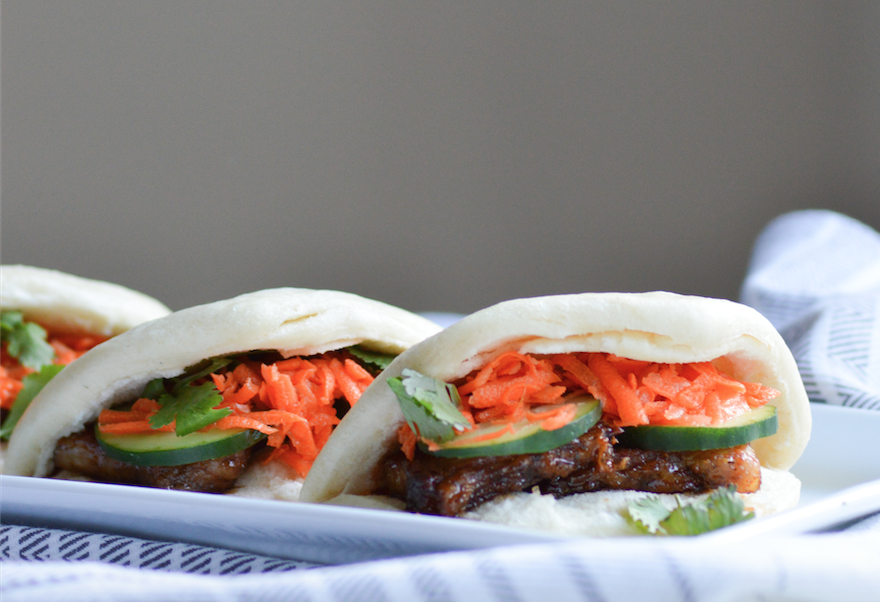 INGREDIENTS
For the pork belly
1 slab of uncured pork belly
salt and pepper
For the Sweet and Sour Carrot Slaw
2 cups (200 g) shredded carrot
2 tablespoons (30 ml) apple cider vinegar
2 tablespoons (30 ml) water
1 tablespoon (12 g) sugar
salt sufficient to cover belly
ground black pepper to taste
For the Filipino Adobo Sticky Sauce
¼ cup (60 ml) apple cider vinegar
2 tablespoons (30 ml) soy sauce
2 tablespoons (30 ml) water
2 tablespoons (30 ml) brown sugar
2 teaspoons (10 ml) sriracha
1 garlic clove, smashed
1 dried bay leaf
For the Steam Buns
1 can refrigerated biscuits
Flour for dusting
For the garnish
1 cucumber, thinly sliced
1 bunch fresh cilantro, washed
DIRECTIONS
For the pork belly
Cover the pork belly with about ½ cup of salt
Put into a container and refrigerate for 12 hours
After brining for 12 hours, remove the pork belly and rinse with cold water
Fill and preheat the SousVide Supreme water oven to 145F/63C.
Pat the pork belly dry with paper towels/kitchen paper and season with black pepper
Put the pork belly into a cooking pouch and vacuum seal.
Submerge the pork belly in the water oven to cook for 36 hours.
After 36 hours, remove the pouch and quick chill, submerged in ice water (half ice, half water) for 30 to 40 minutes, then refrigerate for at least 8 hours.
For the slaw
Combine all ingredients in a small bowl, cover, and refrigerate until ready to serve.
For the buns
Roll each biscuit out on a floured surface
Fold each biscuit in half to resemble a half moon and place each on an individual parchment paper square; lightly brush the biscuit with oil.
Keep the biscuits covered with a moist paper towel as you go, until ready to steam
Prepare your steamer (you can also use the steam function on a rice cooker)
Once the steamer is ready, place each biscuit (with the parchment paper still attached) in the steamer. Make sure to leave plenty of space between biscuits, as they will expand quite a bit.
Steam for 5 to 10 minutes
For the sauce
While the buns are steaming, combine the sauce ingredients in a small pan
Bring the sauce to a boil; reduce to simmer and allow the sauce to thicken about 5 to 10 minutes and set aside
To assemble the buns
Slice the pork belly thinly (to ¼ to ½ inch/1.5 to 2.5 cm)
Heat a pan over medium heat and sear the pork belly in the pan and allow the pork to crisp up on each side
Once crispy, transfer each slice to the pan of sticky sauce
Gently split a steam bun in half with the back of a spoon, add 1 or 2 pork belly slices to each. Top each with a couple of slices of cucumber, a couple of spoons of carrot slaw, and some cilantro.