Frisee Salad with Winter Spiced Poached Pears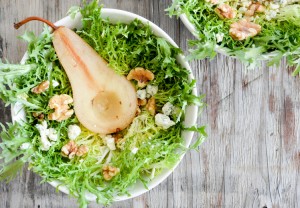 Recipe and photo courtesy of Liz Harris (Floating Kitchen)
Serves 4 (or 8 as a starter)
INGREDIENTS
For the pears
2 firm pears, peeled, halved and cored (Bosc or similar)
3 cardamom pods, lightly crushed
1/4 cup (60 ml) maple syrup (Grade B, if you can find it)
1 tablespoon (15 ml) brandy
1/2 fresh vanilla bean, split and seeds scraped
For the dressing and salad
3 tablespoons (45 ml) champagne or white wine vinegar
2 tablespoons (30 ml) extra-virgin olive oil
1 tablespoon (15 ml) reserved poaching liquid
1/8 teaspoon (1.25 ml) salt
1/8 teaspoon (1.25 ml) pepper
2 small heads frisee
1 cup (120 g) walnuts, toasted
1 cup (115 g) blue cheese, crumbled
DIRECTIONS
For the pears
Fill and preheat the SousVide Supreme water oven to 158F/70C.
Put the pear halves and the cardamom pods into a large cooking pouch.
In a small bowl, combine the maple syrup, brandy, and vanilla bean seeds and pour this mixture over the pears in the cooking pouch.
Vacuum seal the pouch on the Moist setting, if available, being very careful not to suck the liquid up into the vacuum sealer. Alternatively, you can use a large zip-closure cooking pouch and use the displacement method to remove as much air from the pouch as possible before sealing it closed.
Submerge the cooking pouch in the water oven to cook for 30 to 40 minutes.
Carefully remove the cooking pouch; the pears should be soft, yet still retain a little bit of resistance. Remove them from the cooking pouch and set aside. Reserve 1 tablespoon (15 ml) of the pouch liquid.
Make the dressing; in a small bowl, whisk together the vinegar, olive oil, reserved poaching liquid, salt and pepper.
To plate
Divide the frisee evenly among 4 bowls. Drizzle about 2 tablespoons of dressing over the frisee. Top each portion with a quarter of the walnuts and the blue cheese crumbles, and top with a poached pear half.
Serve immediately.
* If you plan to serve this as a starter for a large meal, go with a slightly smaller serving size. You can cut the pears into quarters, dividing the salad up into 8 plates.