Grilled Chicken Breast with Szechuan Yellow Bean Sauce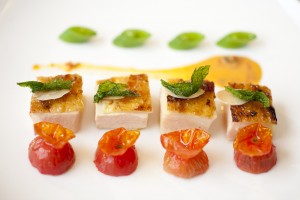 Courtesy of Alex Chow, Kai Mayfair, London, UK
Serves 4
INGREDIENTS
4 chicken breasts, boneless, skin on
For the marinade
2 cups (240 ml) water
2 stalks celery, finely diced
4 sprigs fresh coriander (cilantro), chopped
4 slices fresh ginger, minced
4 cloves garlic, peeled and smashed
4 shallots, peeled and mashed
1 teaspoon (5 ml) salt
1 teaspoon (5 ml) sugar
For the yellow bean sauce
9 tablespoons (130 g) unsalted butter, divided use
4 shallots, peeled and sliced
6 ½ ounces (200 ml) evaporated milk
3 bird's eye chiles
2 teaspoons (10 ml) tau pan Szechuan chilli sauce
16 ounces (500 ml) chicken stock
1 tablespoon (16 g) salt or to taste
1 tablespoon (16 g) fine sugar or to taste
For the garnish
8 fresh mint leaves
16 sliced almonds
4 sugar snap peas
6 cherry tomatoes, halved
DIRECTIONS
In a large zip-closure bag, mix together the marinade ingredients.
Add the chicken breasts and zip closed. Marinate, refrigerated, for several hours.
Fill and preheat the SousVide Supreme to 146F/64C.
Remove the chicken from the marinade, pat dry with paper towels, and put the breasts in a single layer into a large (gallon/3.8 liter) cooking pouch; vacuum seal.
Submerge the pouch in the water oven to cook for 40 minutes.
Meanwhile, prepare the garnishes:

For the mint, heat a few inches of oil in a pot to 375F/190C and deep fry the mint leaves until crisp; transfer to paper towel/kitchen paper to drain.
For the almonds, heat the traditional oven to 325F/160C and toast them about 2 minutes, until golden and fragrant.
In the same oven, roast the cherry tomatoes in a pan with a little oil for a few minutes until the skins split.
For the snap peas, on the stovetop, heat a small pan of water to the boil and blanche the peas for 30 seconds. Drain.

 And make the sauce:

In a pan on the stovetop over medium high heat, add a little of the butter and sauté the shallots in the foaming butter until fragrant.
Add the chicken stock, remaining butter, evaporated milk, tau pan Szechuan chilli sauce, and bird's eye chillis and simmer for about 3 minutes. Taste and adjust seasonings with salt and sugar to your liking.

To finish the chicken, heat an oiled grill or grill pan to high heat and sear the chicken breast, skin side down, until brown, about two minutes. Transfer to paper towel/kitchen paper.
To plate:

Cut the chicken breast into square pieces and divide among four serving plates.
Arrange the sugar snap peas, cooked cherry tomatoes, and bird's eye chillies on each serving plate.
Place half a mint leaf and one almond slice onto each chicken cube.
Add a drizzle of yellow bean sauce onto the plate.