Rack of Lamb with Pomegranate-Coffee Sauce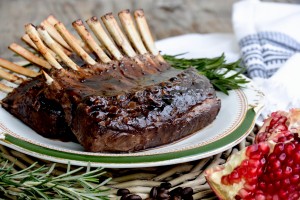 Recipe and photo courtesy of Liz Harris (Floating Kitchen)
Serves 4 to 6
INGREDIENTS
For the lamb
1 cup (240 ml) warm coffee
1/4 cup (150 g) brown sugar, packed
1/4 cup (120 ml) balsamic vinegar
2 cups (480 ml) pomegranate juice
2 racks (about 1 pound/0.9 kg each) of lamb, frenched
Salt and pepper
2 sprigs fresh rosemary
1 tablespoon (14 g) butter
DIRECTIONS
At least 4 hours or up to overnight in advance, marinate the lamb.

In a medium bowl combine the warm coffee and the brown sugar, stirring until the brown sugar is dissolved.
Stir in the balsamic vinegar and the pomegranate juice.
Remove 1 cup of the marinade and reserve it for later (cover and store it in your refrigerator).
Add the two racks of lamb to a large zip-closure bag and pour the remaining marinade over the lamb. Seal the bag and refrigerate the lamb with the marinade for at least 4 hours or up to overnight.

When you are ready to cook the lamb, fill and preheat the SousVide Supreme water oven to 132F/55.5C.
Remove the racks of lamb from the marinade and pat them dry with paper towels/kitchen paper. Discard the marinade.
Season the racks well with salt and pepper on all sides.
Put the racks into separate large (gallon/3.8 liter) cooking pouches. Add a sprig of fresh rosemary to each pouch and vacuum seal,
Submerge the pouches in the water oven to cook for 2 hours.
When the lamb has almost finished cooking, pre-heat the broiler and make the sauce.
For the sauce:

Put the reserved marinade into a skillet over medium heat on the stovetop and bring to a low boil. Cook, stirring occasionally, for about 5 minutes, or until it's reduced to about 1/3 its volume. Don't reduce it much further than that or it will become too sticky.
Remove the skillet from the heat and whisk in the butter and 1/8 tsp (1.25 ml) salt. Set aside.

Preheat the broiler to high heat.
Remove the cooking pouches from the water oven and the lamb from the pouches. Put the racks onto a broiler-safe pan and sear under the broiler for 1 to 2 minutes per side, or until the surface of the lamb is nicely browned.
Transfer the lamb from the broiler to the sauce in the skillet, turning to coat.
Slice the racks into single or double chops and serve immediately. Pass extra sauce.