Salted Caramel Ice Cream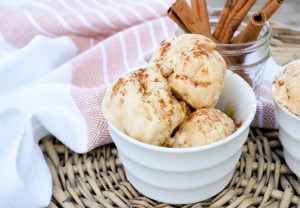 Courtesy of Liz Harris (Floating Kitchen)
Makes about 1 quart (0.9 liter)
INGREDIENTS
For the Ice Cream Base
6 egg yolks
1/4 cup (48 g) white sugar
1/4 cup brown (50 g) sugar
1/8 teaspoon (1.25 ml) salt
1/2 teaspoon (2.5 ml) vanilla extract
1 cup (240 ml) whole milk
1 cup (240 ml) heavy cream
5 cinnamon sticks
Ground cinnamon, for garnish, if desired
For the Caramel Sauce
1/2 cup (96 g)sugar
1/4 cup (60 ml) water
3 tablespoons (43 g) salted butter, cubed and at room temperature
1/4 cup (60 ml) heavy whipping cream
1 pinch sea salt (or to taste)
DIRECTIONS
Fill and preheat the SousVide Supreme water oven to 185F/85C.
In a blender or food processor, combine the egg yolks, sugars, salt, vanilla extract and whole milk and blend until just smooth (don't over blend).
Add the heavy cream and pulse 2 or 3 times, until it's just combined.
Transfer the mixture to a large zip-closure cooking pouch and add the cinnamon sticks. Using the displacement method, remove the air from the pouch and zip the seal.
Submerge the pouch in the water oven to cook for 1 hour.
After an hour, carefully remove the pouch from the water oven and if the ice cream base looks a bit broken, gently massage the pouch to recombine it.
Submerge the pouch in an ice water bath (half ice/half water) for about 30 minutes to quick chill, then transfer it to the refrigerator for at least 6 hours or up to overnight.
While the ice cream base chills, make the caramel sauce

Spread the sugar in the bottom of a heavy-bottom saucepan.
Pour the water over the sugar and swirl the pan gently to moisten the sugar evenly with the water.
Heat on the stovetop over medium-high heat. Allow the mixture to cook without stirring. It will bubble quite vigorously. If it's not cooking evenly, you can gently swirl the pan, but you want to avoid stirring if possible.
After 5 to 8 minutes, the mixture will turn a deep caramel color. Once it gets to this stage, quickly but carefully remove it from the heat and whisk in the cubed butter, then gradually whisk in the heavy cream until smooth.
Stir in the sea salt, starting with just a pinch and adding more as necessary to suit your taste preferences.
Once the sauce has cooled slightly, transfer it to a small container and store it for up to 2 to 3 weeks in the refrigerator. (This recipe makes more than you'll need for the ice cream, but you'll certainly find other uses for it.)

Churn the ice cream according to the manufacturer's instructions.

Once the ice cream base is chilled, remove and discard the cinnamon sticks.
Pour the ice cream base into the canister of your ice cream maker and churn until the mixture is nearly frozen and the consistency of soft serve (this should take about 20 minutes).
With the machine running, add 2 to 3 tablespoons (30 to 45 ml) of the salted caramel sauce and churn for 1 minute more.

Transfer the ice cream to a freezer-safe container and put into the freezer to become firm (about 4 hours).
Serve with a dusting of ground cinnamon, if desired.