Seared Duck Breast – Chef Koj

… with Red Wine Soya Reduction and Gai Lan
Courtesy of Chef Andrew Kojima (citation)
Serves 4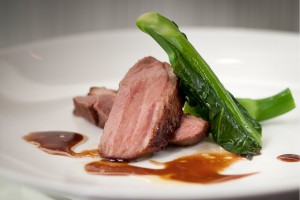 INGREDIENTS
4 (8 ounce/250 g each) duck breasts
2 tablespoons (28 g) chopped shallots
2 tablespoons (30 ml) red wine
2 stalks gai lan (Chinese broccoli)
For the duck marinade
2 pods star anise
2 sticks cinnamon
2 coins fresh ginger, minced
2 spring (green) onions
4 cloves garlic, peeled and mashed
4 pieces tong kwai herb (available at Asian markets and online)
1 teaspoon (5 ml) salt
1 teaspoon (5 ml) sugar
For the soya reduction base
5 ounces (150 ml) light soy sauce
2 teaspoons (10 ml) oyster sauce
5 ounces (150 ml) chicken stock
¼ large onion, peeled, sliced, and sautéed
¼ large apple, peeled, sliced, and sautéed
½ roasted chicken (for only bone and carcass) (for stock)
For the ginger water
3 ¼ ounces (100 gm) sliced ginger
3 ¼ ounces (100 ml) water
3 ¼ ounces (100 ml) Chinese rice wine
½ teaspoon (2.5 ml) sugar
½ teaspoon (2.5 ml) salt
DIRECTIONS
Put the duck breasts and all marinade ingredients into a cooking pouch and vacuum seal. Refrigerate overnight.
Fill and preheat the SousVide Supreme water oven to ??F/56C.
Submerge the pouch of duck in the water bath to cook for 50minutes.
Meanwhile, prepare the ginger water:

In a blender, process the ginger and water together.
Using the flat side of a large spoon or ladle, push the paste through a sieve into a saucepan, squeezing as much liquid through as you can.
Add in the Chinese rice wine to the sieved ginger liquid.
On the stovetop, add the sugar and salt and bring the mixture to a boil.

And prepare soy reduction base by simmering the Soy Reduction ingredients in a pot and simmer covered for 1 hour. Ensure volume does not reduce below 2/3 of original amount. Pass through a sieve and set aside.In a pot of boiling water on the stovetop, blanch the gai lan for 60 seconds and remove.
8.
9. Sauté the shallots in a hot pan until fragrant. Add the red wine and 100ml of the soy reduction base and reduce to 2/3 of the original volume.
10. In a pan, sear the duck breast on both sides until brown.
11. Place the Gai Lan, Duck on a plate and add the desired amount of soy reduction.