Southwestern Chicken Salad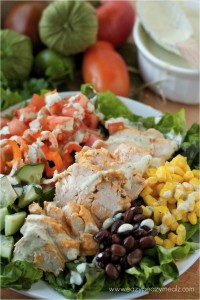 Courtesy of Rachael Yerkes (EazyPeazyMeals)
Serves 2 to 4
INGREDIENTS
2 chicken breasts (boneless and skinless)
Salt and pepper to taste
Fresh salad greens for plating
1 can corn, drained
1 can black beans, drained
1 tomato, diced
Creamy Tomatillo Dressing (recipe follows)
For the Southwestern Sauce
1 chipotle chili in adobo sauce
1 teaspoon (5 ml) minced garlic
1 tablespoon (15 ml) white wine vinegar
A squeeze of fresh lime juice
½ tablespoon (7.5 ml) honey
1 tablespoon (15 ml) nonfat plain Greek yogurt or sour cream
1 teaspoon (5ml) paprika
1 teaspoon (5 ml) cumin
¼ teaspoon (1.25 ml) coriander
DIRECTIONS
Fill and preheat the SousVide Supreme water oven to 140F/60C (or your preferred temperature for chicken breast.)
Dice the chicken breasts to about ½ inch (2.5 cm) and season with salt and pepper.
Put all the sauce ingredients into a blender or food processor and puree until smooth. (You can mix by hand, but be sure to chop the chipotle very finely first.)
Toss the uncooked chicken in the sauce, put into a cooking pouch, and vacuum seal on Moist setting, if available. Take care not to pull the sauce into the sealing chamber by forcing the seal if needed.
Submerge the pouch to cook for approximately 1 hr (but no more than 4 hours)
Meanwhile, make the dressing (recipe below).
Remove the chicken and quick chill in the pouch, submerged in an ice water bath (half ice, half water) or enjoy immediately hot.  Serve over a bed of crisp greens, with a mound of corn, black beans, and tomatoes, all drizzled with the Creamy Tomatillo Buttermilk Ranch dressing. Alternatively, serve as a sandwich or wrap.
Creamy Tomatillo Buttermilk Ranch Dressing
INGREDIENTS
1¾ cups (211 g) sour cream
1 tomatillo, paper husk removed
½ jalapeño, stemmed and seeded
½ cup (120 ml) buttermilk
1 teaspoon (5 ml) chili powder
1 teaspoon (5 ml) cumin
1 teaspoon (5 ml) dried coriander
½ bunch (about ¾ cup/30 g) cilantro, divided use
1 tablespoon (15 ml) lime juice
1 teaspoon (5 ml) dried chives
1 teaspoon (5 ml) minced garlic
DIRECTIONS
Put all ingredients into the blender (reserving half the cilantro)
Blend until smooth.
Add the remaining cilantro and pulse just a few times to maintain some visible green bits or finely chop it by hand and stir it in.