Festive Ham

Courtesy of Chef Chris Holland, adapted from Sous Vide: The Art of Precision Cooking
Serves 10 or more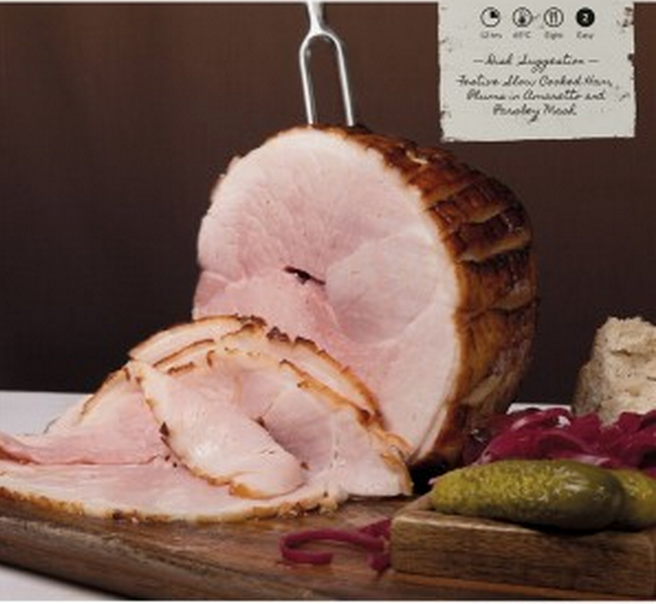 INGREDIENTS
5 pound (2.5 kg) boneless ham
1/3 cup (80 g) Dijon mustard
¼ cup (65 g) maple syrup
¼ cup (65 g) honey
2 oranges, for peeled zest only
2 teaspoons (10 ml) Mixed Spice*
6 bay leaves
6 pods star anise
6 ½ ounces (200 ml) cola
20 juniper berries
6 cloves
1 teaspoon (5 ml) chopped thyme
3 ¼ ounces (100 ml) fresh ginger juice
DIRECTIONS
Fill and preheat the SousVide Supreme water oven to 149F/65C.
Put all ingredients, except the ham, into a saucepan; bring to a boil and reduce heat to simmer gently for 15 minutes. Set aside to cool.
Once cool, pour the seasoning liquid into a large cooking pouch, add the ham, and vacuum seal in a chamber vacuum. If using a suction sealer, use the Moist setting if available and take care to force the seal before liquid can be pulled into the sealing chamber. Alternatively, you can use a large zip closure cooking pouch and the displacement method (Archimedes' Principle) to remove the air and zip the seal. (If the ham is too large for your largest cooking pouch, cut it in half and pack in two cooking pouches, dividing the seasoning liquid between them.)
Submerge the pouch in the water oven to cook for 12 hours.
When ready to finish, preheat the traditional oven to 400F/200C.
Remove the ham from the pouch and transfer to a roasting pan. Roast in the oven for 10 minutes for lovely, crispy fat.
* Mixed Spice is a combination of 1 tablespoon ground cinnamon, 1 teaspoon each ground coriander and ground nutmeg, ½ teaspoon ground ginger, and ¼ teaspoon each ground allspice and ground clove.
---
No sous vide? Hmmm. We can help!