Lamb Croquettes with Italian Salsa Verde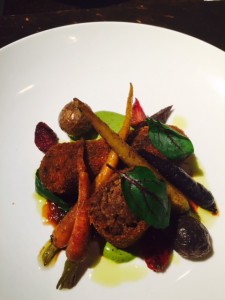 Courtesy of Chef Elise Wiggins (Panzano, Denver, CO)
Serves 4
Note: This recipe requires preparation to begin 3 days before you plan to serve.
INGREDIENTS
2 lamb shanks
olive oil, as needed
salt, to taste
pepper, to taste
4 sprigs thyme
¼ cup (60 ml) veal demi glace
2 eggs, slightly beaten with a tablespoon of water
all-purpose flour, as needed for dusting prior to breading.
1 cup (120 g) panko bread crumbs
1 recipe Italian Salsa Verde, for serving (recipe follows)
DIRECTIONS
 Fill and preheat the SousVide Supreme water oven to 144F/62C.
Rub shanks with oil and season with salt and pepper.
Put shanks into a large cooking pouch, put a couple of thyme sprigs on top of each one and, vacuum seal.
Submerge the pouch(es) in the water oven to cook for 2 days.
Remove the shanks from the pouches and reserve the pouch juices.
Pull meat off the bones and set aside.
On the stovetop, in a saucepan, simmer the pouch juices until slightly thickened. Skim and discard the foam that accumulates as your reduce.
Transfer the reduction to a clean sauce pot and add the veal demi glace; reduce over medium low heat until the sauce is nape (ie until the sauce will coat the back of a spoon).
Add the lamb meat to the sauce and mix meat and sauce together well. Adjust seasoning with salt and pepper.
Using an ounce/gram scale, weigh the meat and divide into 4 equal portions.
Put a portion onto a piece of plastic wrap/cling film and roll meat into a tight cylinder. Repeat until all meat portions are rolled. Refrigerate overnight.
When ready to finish, heat high-smoke point oil to 330F/165C in a deep fryer
Bread the lamb croquettes as follows:

Remove the plastic wrap from the lamb cylinders
Put the flour, egg wash, and panko crumbs into three separate shallow bowls
Roll the lamb cylinders first in flour, gently patting off the excess, then in the egg wash, then completely cover in the panko.

Fry until golden.  Drain on paper towels/kitchen paper and serve with Italian Salsa Verde and your favorite sides, such as roasted root vegetables.
Italian Salsa VerdeItalian Salsa Verde
Makes: About 1 to 1 ½ cups (240 to 360 ml)
INGREDIENTS
6 medium cloves garlic, unpeeled
1 cup (40 g) coarsely chopped fresh parsley
4 anchovy fillets ( oil pressed out with paper towels/kitchen paper)
2 tablespoons chopped fresh basil
1 tablespoon (15 ml) chopped fresh tarragon
1 tablespoon (15 ml) finely grated lemon zest
1 /2 cup (120 ml) 3gg yolks
2/3 cup (160 ml) extra-virgin olive oil
1/4 teaspoon (1.25 ml) salt
Freshly ground pepper to taste
DIRECTIONS
Put the garlic into a small saucepan and cover with 1/2 inch (1 cm) of cold water.
Bring to a boil over high heat, and as soon as the water boils, drain, add 1/2 inch (1 cm) of fresh water to the pan and bring to a boil again. Drain and rinse under cold water until cool enough to handle. Peel and coarsely chop.
Put the garlic, parsley, anchovies, basil, tarragon, and lemon zest into a food processor or blender. Add the egg yolks.
Turn the blender on and, with the motor running, slowly add oil until just blended. The sauce should still have a little texture.
Season with salt and pepper, to taste.