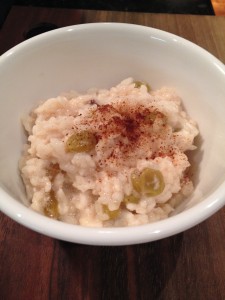 Recipe and photo courtesy of Jana Seitzer (MerlotMommy.com)
Serves 4 to 6
INGREDIENTS
3 cups (720 ml) skim milk
2 tablespoons (28 g) butter
2 cups (420 g) Arborio rice
1/2 cup (75 g) golden raisins
1/2 cup (120 ml) maple syrup
2 teaspoons (10 ml) ground cinnamon
1/2 teaspoon (2.5 ml) ground ginger
Additional ground cinnamon or cinnamon sugar, for serving, optional
DIRECTIONS
Fill and preheat the Sous Vide Supreme water oven to 140F/60C.
Put all ingredients into a large zip-closure cooking pouch and stir to combine. Use the displacement method (Archimedes' Principle) to remove the air and zip the seal.
Submerge the pouch in the water over and cook for 2 hours.
Remove and open the pouch and stir ingredients to fluff. Portion the pudding into individual serving bowls, sprinkle a touch of cinnamon over each bowl, if desired, and serve warm.
Share This Recipe with Friends!