White Wine Maple Poached Pears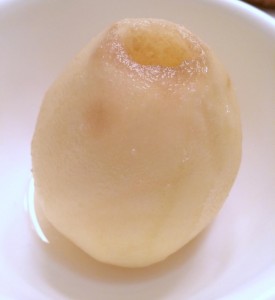 Courtesy of Jana Seitzer (MerlotMommy.com)
Serves 8
INGREDIENTS
2 cups (480 ml) white wine
2 cups (480 ml) water
1 cup (240 ml) maple syrup
1 ¼ cups (240 g) sugar
4 pears
DIRECTIONS
Fill and preheat the Sous Vide Supreme water oven to 176F/80C.
Combine all ingredients, except the pears, in a saucepan. Simmer and reduce sauce until about 20% of the liquid has cooked down and the alcohol cooked away.
Peel and core the pears.
Put the pear halves in a single layer into large zip-closure cooking pouch(es).
Pour the syrup over them, dividing it between pouches, if needed, and use the displacement method (Archimedes' Principle) to remove the air and zip the seal.
Submerge the pouch in the water oven and cook for 1 hour.
When ready to serve, remove the pouch from the water bath, open, and serve the pears with a drizzle of sauce on top.