Blood Orange Infused Syrup

Makes about 3 cups (720ml)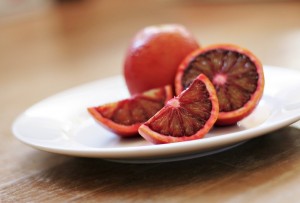 INGREDIENTS
2 blood oranges, well washed and sliced
2 cups (380 g) Castor (superfine) sugar
1 3/4 cups (415 ml) water
2 ounces (60 ml) vodka
DIRECTIONS
Fill and preheat the SousVide Supreme water oven to 135F/57C.
Put the blood orange slices, sugar, and water into a large (gallon/3.8 liter) zip-closure cooking pouch and use the displacement method (Archimedes' Principle) to remove the air and zip the seal.
Submerge the pouch in the water oven to cook for 2 hours. A few times during the cooking process, lift the pouch and gently shake the contents to help dissolve the sugar.
Remove the pouch from the water bath and quick chill, submerged in ice water (half ice/half water) for 15 to 20 minutes.
Strain the liquid through a sieve to remove the solids. (You can dehydrate the sugar-infused orange slices in a food dehydrator, if you like, or discard them. They make wonderful garnishes for desserts or a simple sweet, crunchy dessert on their own.)
Add the vodka to the infusion to extend the shelf life and decant the finished product into a clean bottle with a lid or stopper. Store in refrigerator for up to 4 weeks to use in cocktails, such as our delicious MOMosa champagne cocktail (recipe below), or add to iced tea or sparkling water for a festive non-alcoholic libation.
Blood Orange MOMosa
Makes 1 cocktail
1 ounce (30 ml) Blood Orange Infused Syrup, chilled
4 ounces (120 ml) champagne or prosecco, well-chilled
Optional garnishes – candied blood orange slice, blood orange peel twist, fresh strawberry, fresh blackberry.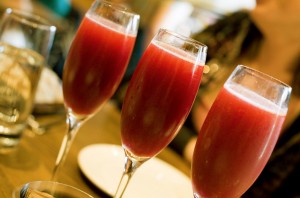 DIRECTIONS
In a well-chilled champagne flute or small hurricane glass, put the syrup and top with the bubbly.
Add a garnish, if desired, and enjoy immediately!