Fiddlehead Ferns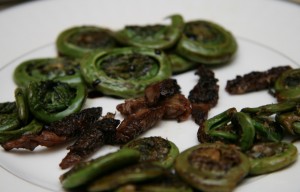 Serves 4
Note: Fiddlehead ferns are the young shoot of ostrich ferns, reputedly the safest fern to eat. Occasionally fiddleheads produce a heat-labile toxin that can cause acute gastrointestinal distress from consuming raw or incompletely cooked fiddleheads.
INGREDIENTS
1 quart (.96 liters) ice cold water
½ lemon, for juice and zest
1 teaspoon (5 ml) salt
2 dozen fiddlehead ferns, trimmed to remove any brown or dry spots
freshly ground black pepper
3 tablespoons (42 g) butter
DIRECTIONS
Fill a medium bowl with cold water and add the salt and the juice from the lemon; add the fiddleheads and soak them in the water to clean them.
Fill and preheat the SousVide Supreme water oven to 186F/85C.
Drain the fiddleheads and pat them dry. Put them into a cooking pouch, grind some pepper over them and vacuum seal.
Submerge the pouch in the water oven to cook for 45 minutes.
When ready to finish, melt the butter in a pan (not non-stick) over medium high heat.
Drain any liquid from the pouch and put sauté the ferns in the butter about 2 minutes on each side, until slightly crispy and golden.
Season (if needed) with additional salt and pepper and the lemon zest.
Serve hot as a side dish.
Variation: Serve tossed into cooked angel hair pasta, with aged parmigiano reggiano for a light spring supper.