Grilled Pibil Boneless Pork Ribs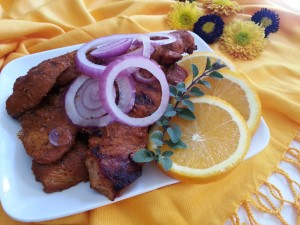 Courtesy of Adriana Martin (AdrianasBestRecipes.com)
Serves 6
INGREDIENTS
2 ounces (57 g) achiote paste
1 tablespoon (15 ml) Mexican oregano
1 tablespoon (15 ml) Sazon seasoning with cumin, pepper and salt
1 cup (240 ml) orange juice
1/2 cup (120 ml) apple cider vinegar
2 cloves garlic, peeled and chopped
1/2 cup (120 ml) olive oil
1 pound (.45 kg) boneless pork ribs
1/2 purple onion, peeled and cut in rounds
1 orange, cut in rounds
DIRECTIONS
Fill and preheat the SousVide Supreme water oven to 149F/65C.
Meanwhile, make the pibil marinade by whisking together the achiote paste, oregano, Sazon seasoning, and orange juice in a bowl. When the paste is thoroughly dissolved, add the vinegar and whisk to combine.
Put the ribs into a large zip-closure cooking pouch; add the marinade, along with the garlic and the olive oil.
Use the displacement method (Archimedes' Principle) to remove the air and zip the seal.
Submerge the pouch in the water oven and cook the meat for 24 to 48 hours until tender.
Prior to serving, heat a well-oiled grill or grill pan to high heat.
Remove the ribs from the pouch and sear on both sides for color and flavor.
Serve family style with your favorite vegetables; also delicious paired with sous vide cooked Spicy Pickled Pineapple.