Perfect Egg Tostadas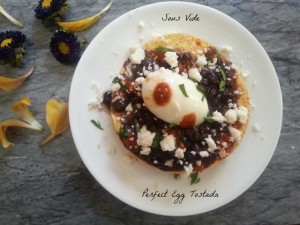 Recipe and photograph courtesy of Adriana Martin (adrianasbestrecipes.com)
Serves 2
INGREDIENTS
2 large eggs*, at room temperature
2 corn tostadas
2 tablespoons (30 ml) cooked black beans, warmed
2 teaspoons (10 ml) salsa taquera, chile de arbol, or salsa verde sauce
2 sprigs cilantro, chopped
2 teaspoons (10 g) crumbled queso fresco
DIRECTIONS
Fill and preheat the SousVide Supreme water oven to 162F/72C for quick cooking the eggs (or to 147F/64C for the 60 to 90 minute method.)
When the bath has reached temperature, gently drop in the eggs –in their shells–directly into the water oven (no need to vacuum seal them.)
If you are quick cooking the eggs, you must time them exactly, so set the timer for 15 minutes and remove them promptly. ( Have your tostada ingredients ready to plate!) If you are slow cooking them, any time after 60 minutes will work. They can stay for much longer, if needed.
Once the quick cooked eggs are ready (if you are ready to plate immediately) take them out of the SousVide Supreme water oven and submerge them in cold water for a few minutes to stop the cooking process. Set aside for plating. (If using the slow cooked method at 147F/64C, you can leave them in the water bath until you are ready to plate, as they will not overcook at that temperature.)
To build the egg tostadas is very easy:

Put a tostada on each plate, top with 1 tablespoon of warm black beans, and spread the beans out.
Carefully break the egg and gently open it on top of the beans.
Drizzle with your favorite Mexican sauce.
Finish the egg tostadas with chopped cilantro and crumbles of queso fresco, because a tostada without cheese isn't a tostada, enjoy!
*Sous vide cooking of eggs depends on the circumference of the egg. This recipe's timing is based on average 'large' hens eggs. If using other than large hen eggs, please see our Time and Temperature chart for properly timing egg cooking.