Spring Onion Soup

Serves 2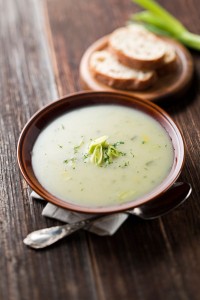 INGREDIENTS
1 bunch spring onions, rinsed and trimmed
1 medium russet potato, peeled and diced
2 cloves garlic, peeled and chopped
1 teaspoon (5 ml) soy sauce
1 teaspoon (5 ml) olive oil
salt and black pepper to taste
1 cup (240 ml) water or light cream, as preferred
fresh olive oil, for garnish (optional)
fresh parsley leaves, for garnish (optional)

DIRECTIONS
Fill and preheat the SousVide Supreme water oven to 180F/??C.
Chop the white and green parts of the onions and put them, along with all remaining ingredients except the water (or cream) and parsley, into a cooking pouch and vacuum seal.
Submerge the pouch in the water oven to cook for 45 minutes to 1 hour, until all vegetables are very tender.
Open the pouch and pour the contents into food processor or blender. Add about ¼ cup (60 ml) of the water or cream and process. Slowly add the remaining water or cream to achieve the desired consistency and volume you prefer.
Add a drizzle of good, fragrant olive oil and a sprinkling of fresh parsley and serve.