Chicken Quinoa Spring Rolls

Courtesy of Camille Koppenberg (Camille in the Kitchen)
Serves 2 as a meal, 4 as an appetizer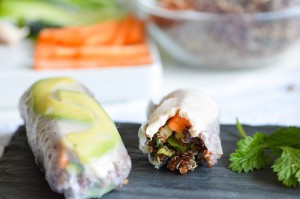 INGREDIENTS
For the chicken
1 chicken breast
salt and pepper
a few sprigs fresh cilantro
For the peanut sauce
¼ cup (45 g) peanut butter
2 tablespoons (30 ml) rice wine vinegar
½ tablespoon (7.5 ml) soy sauce
½ tablespoon (7.5 ml) agave nectar
¼ teaspoon (1.25 ml) sesame oil
½ tablespoon (7.5 ml) sambal oelek chili paste (if available, or Sriracha)
For the spring roll assembly
1 package rice wrappers
thinly sliced sous vide chicken breast (from above)
2 cups (370 g) Quinoa Sushi 'Rice' (recipe follows)
½ avocado, peeled, seeded, and sliced thinly
½ cucumber, peeled (if desired), seeded, and sliced into matchsticks
2 small carrots, peeled and sliced into matchsticks,
2 green onions, trimmed and chopped (about ¼ cup/57 g)
½ cup (20 g) chopped fresh cilantro
DIRECTIONS
Fill and preheat the SousVide Supreme water bath to 140F/60C.
Liberally season the chicken breast with salt and pepper.
Put the breast into a cooking pouch along with a few sprigs of cilantro and vacuum seal
Submerge the pouch in the water bath to cook for 1½ hours.
Remove the chicken and submerge the pouch in ice water to quick chill and refrigerate for at least 2 hours or overnight.
When ready to assemble the spring rolls, make the peanut sauce in a small bowl, by whisking together the sauce ingredients. If too thick add water and if too thin add more peanut butter. Set aside.
Assemble the spring rolls:

Prepare your work area by laying down a damp tea towel
Line a baking pan with wet paper towels (to receive the spring rolls)
Pour warm water into a pie pan or shallow bowl (large enough to lay a rice wrapper flat)
Dip a rice wrapper into the warm water, leaving just long enough to soften (about 1 minute).
Lay the softened wrapper flat on the damp tea towel
in the middle of the wrapper  center two slices of avocado and top with two pieces of sliced chicken. Top these with a spoon of quinoa, and the cucumber, carrot, green onions and cilantro.
Fold the sides over the filling and roll the wrapper like a burrito, gently, but tightly. (If you rip the wrapper, it's ok! You can double wrap.)

Serve the spring rolls with the peanut sauce for dipping.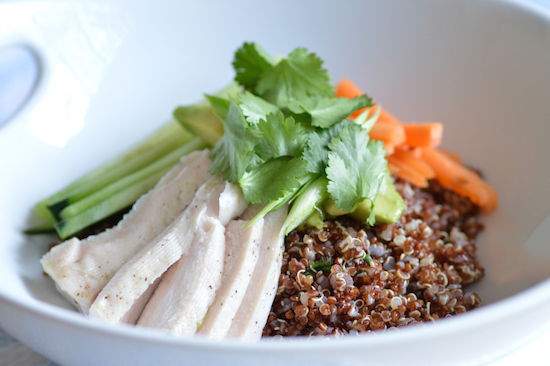 Alternative: If you don't want rolls, you can also make a delicious Chicken Quinoa Salad. For each serving, simply mound ½ cup (57 g) cooked Quinoa Sushi 'Rice' into a bowl, add slices of chicken and avocado, and top with sliced cucumber, green onions, matchstick carrots, and fresh cilantro.
Quinoa Sushi 'Rice'
Makes about 2 cups (370 g)
INGREDIENTS
1 cup (170 g) uncooked quinoa
1 ½ cups (360 ml) water
¼ teaspoon (1.25 ml) salt
1 tablespoon (15 ml) rice wine vinegar
1 tablespoon (12 g) sugar
DIRECTIONS
Put the quinoa and water into a saucepan on the stovetop over medium high heat and bring to a boil.
Reduce heat to simmer, cover, and cook for 15 to 20 minutes, until the quinoa is tender.
Dissolve the sugar into the vinegar and stir this mixture into the hot rice.
Allow to completely cool for using in spring rolls or in quinoa salad.