Korean Pork Ribs Sous Vide

Courtesy of Steve Cylka (The Black Peppercorn and author of the Everything Guide to Sous Vide Cooking, Adams Media 2015)
Serves 2 to 3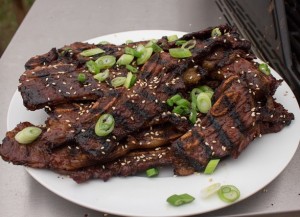 INGREDIENTS
For the marinade
1/2 cup (120 ml) soy sauce
1/3 cup (80 ml) hoisin sauce
1/4 cup (50 g) brown sugar
2 tablespoons (30 ml) sesame oil
4 garlic cloves, peeled and minced
1/2 inch (1.25 cm) piece fresh ginger, peeled and grated
1 to 2 tablespoons (15 to 30 ml) Sriracha sauce
For garnish
3 tablespoons (30 g ) toasted sesame seeds.
6 green onions, trimmed and sliced
DIRECTIONS
Peel the thin membrane off the back of the ribs and cut them into individual rib portions.
In a small bowl, whisk all the marinade ingredients together.
Put ribs into a large bowl or zip-closure bag and pour the marinade over them. Toss the ribs to ensure they are completely coated in the marinade. Cover the bowl with plastic wrap or zip seal and refrigerate for 2 to 3 hours.
Midway through the marinating process, turn the ribs around to make sure all the sides get coated in enough marinade.
Fill and preheat the Sous Vide Supreme water oven to 160F/71C.
Put the ribs (about 5 at a time) in a single layer into small (quart/0.9 liter) cooking pouches and vacuum seal.
There should be about 1/2 cup (120 ml) of the marinade left in the bowl. Keep it in the fridge to make a glaze later.
Submerge the ribs in the water oven to cook for 18 hours.
With about 30 minutes of cooking time left for the ribs, heat the reserved marinade in a small saucepan on medium/low heat to cook; reduce by about half to a nice glaze.
Meanwhile, preheat oven to 425F.
Remove the pouches of ribs from the water oven and open and, using tongs, transfer the ribs to a broiling pan.
Brush the ribs with some of the glaze and put them in the oven for 5 minutes.
After 5 minutes, brush the ribs with glaze once more and put them back in the oven for another 5 minutes.
Arrange on a serving platter and garnish with sesame seeds and green onions.