Serves 6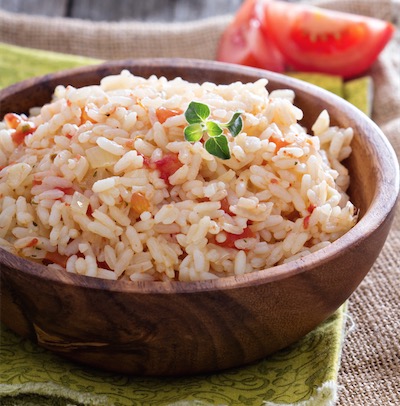 INGREDIENTS
¼ cup (60 ml) olive oil
2 onions, peeled and finely chopped
1 ½ cups (316 g) rice
1 1/2 cups (360 ml) chicken or vegetable stock
1 can (14 ounces/410 g) canned diced tomatoes and their juice
½ teaspoon (2.5 ml) salt or to taste
¼ teaspoon (1.25 ml) ground black pepper or to taste
6 sprigs fresh cilantro, for garnish
DIRECTIONS
Fill and preheat the SousVide Supreme water oven to 183F/84C.
In a skillet on the stove top, heat the olive oil and sauté the onions until limp.
Add the rice and stir to coat. Set aside to cool slightly.
When cool, put the rice into a large zip-closure cooking pouch, add the chicken or vegetable stock and the tomatoes and their juice, and season with the salt and pepper.
Use the displacement method (Archimedes' Principle) to remove the air and zip the seal.
Submerge the pouch in the water oven to cook for 45 minutes.
Remove, fluff the rice with a fork, and transfer to a warm serving bow.
Garnish with the cilantro and serve!
Share This Recipe with Friends!