Beef Tenderloin with Pesto and Asparagus

Courtesy of Chef Jason Wilson (Crush, Seattle, WA)
Serves 4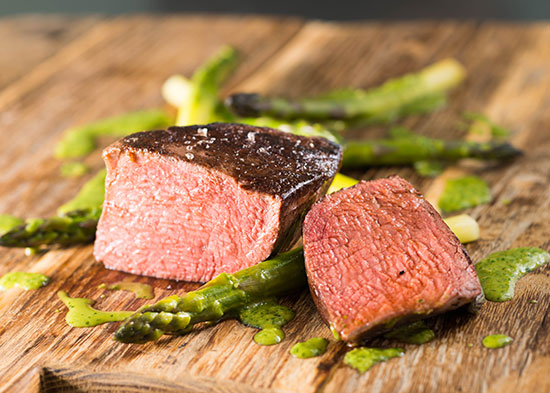 INGREDIENTS
4 portions (6 ounces/170 g each) beef tenderloin (naturally raised if available)
1 tablespoon (15 ml) kosher salt (divided use)
cracked black pepper, to taste
¼ cup (60 ml) olive oil
1 cup (about 40 g) fresh basil leaves
5 large cloves fresh garlic, peeled
1 lemon, for zest and juice
2 tablespoons (30 ml) grated Parmesan cheese
16 to 20 spears asparagus (depending on size)
DIRECTIONS
Fill and preheat the SousVide Supreme water oven to 134F/56.5C.
Season the meat evenly with salt and pepper to taste and put into cooking pouches, two portions to a pouch; vacuum seal fully.
Submerge the pouches in the sous vide water oven and set the timer for 2 hours to signal when the minimum cooking time has elapsed. (The meat can stay longer, but will be cooked through in 2 hours.)
Meanwhile, on the stovetop, blanche the basil leaves in boiling water for 30 seconds; scoop them out and immediately and drop them into a bowl of ice water to arrest cooking. Scoop the leaves out and wring them dry of all water; chop them slightly.
Likewise, blanche the garlic in the boiling water for 30 seconds and then remove.
Put the garlic, basil, Parmesan cheese, olive oil and a teaspoon (5 ml) of the salt into a food processor or blender and blend until smooth.
Add the lemon juice, taste, and adjust seasonings.
Put the asparagus in a single layer into a cooking pouch and season with salt to taste and a little of the pesto; vacuum seal.
Submerge the asparagus in the water bath alongside the meat for 15 minutes. When timer sounds, remove and open all pouches.
On a well-oiled grill or grill pan, over high heat, sear the steaks for just 30 to 45 seconds on each side.
Serve with the asparagus and additional pesto, if desired.