Lemon Budino (An Italian Lemon Pudding)

Courtesy of Vicky McDonald
Serves 4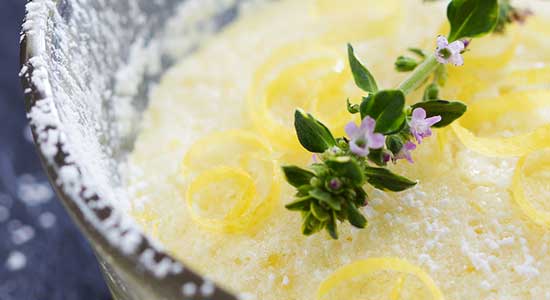 INGREDIENTS
1 teaspoon (5 ml) melted butter (for greasing ramekins)
2 large eggs
5 tablespoons (75 g) of sugar
¼ cup (60 ml) lemon juice
½ tablespoon (7ml) grated lemon zest
1/3 cup (80 ml) milk
¼ cup (35 g) all-purpose white flour
1 tablespoon (15 ml) powdered sugar, to serve
DIRECTIONS
Use your water oven as a bain Marie: elevate the bottom perforated grill of the water oven on a non-rusting baking (or roasting) rack.
Arrange four ramekins, about half filled with water, on the raised grill and fill the water oven until the water reaches half way up the side of the ramekins.
Remove, empty, and dry the ramekins and grease each one with the melted butter.
Preheat the SousVide Supreme to 185F/85C.
Separate the eggs and put the yolks into a large bowl and reserve the whites for use later in the recipe.
Add the sugar, lemon juice, lemon zest, milk and flour to the egg yolks and beat well with a hand whisk, until all the ingredients are combined.
Meanwhile, in a large bowl, beat the egg whites until they form stiff peaks.
Gently fold the eggs whites into the yolks, one third at a time until all the egg whites have been incorporated. Make sure not to over stir or it will deflate the mixture.
Divide the mixture evenly among the four ramekins.
Tent a square of aluminum foil over the ramekins to divert drips from the lid.
Arrange the ramekins on the baking rack in the preheated water oven and set the timer for 45 minutes.
After 45 minutes, remove the puddings from the water bath using an oven glove or tongs.
Allow them to cool for ten minutes before serving.
Dust with a sprinkling of powdered sugar, and serve with some freshly whipped cream, or vanilla ice-cream.