Veal Filetto with Parmigiano Reggiano Fondue and Asparagi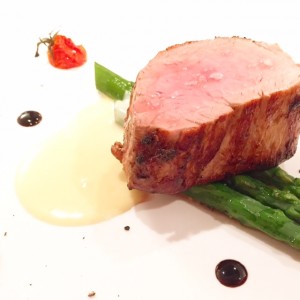 Courtesy of Chef Sandra Rosy Lotti (Toscana Saporita – Tuscan Cookery School)
Serves 4
INGREDIENTS
15 ounces (427 g) veal fillet (tenderloin)
salt and freshly ground black pepper
3 tablespoons (45 ml) extra virgin olive oil
3 drops balsamic vinegar (concentrated)
For searing
2 tablespoons (30 ml) extra virgin olive oil
1 teaspoon (5 g) unsalted butter
DIRECTIONS
Use a square of plastic wrap (cling film) to roll the veal fillet into a round log.
Twist the ends of the plastic to secure and refrigerate the veal for 6 hours.
When ready to cook, fill and preheat the SousVide Supreme water oven to 142F/61C.
Whisk together the salt, pepper, olive oil, and balsamic in a small bowl. Unwrap the veal and rub it all over with the seasoned oil.
Put the veal into a cooking pouch and vacuum seal.
Submerge the pouch in the water oven to cook for at least 45 minutes, though up to several hours would not harm the texture.
When ready to serve, heat a lightly oiled pan over high heat. Add the olive oil and butter and sear on the surface for a few minutes, turning it several times for even color.
Slice and serve with Asperagi and Pamigiano Reggiano Fondue (recipes follow).
Parmigiano Reggiano Fondue
(Note: This accompaniment is not a sous vide cooked recipe.)
INGREDIENTS
10 ounces (300 ml) heavy cream
2 (about 40 g combined) egg yolks
2/3 cup (120 g) parmigiano reggiano, grated
salt and pepper to taste
DIRECTIONS
Pour the cream into a medium saucepan and bring just to the boil.
Remove from heat and using an immersion blender, blend in parmigiano and egg yolks.
Season with salt and pepper to taste
Asparagi
Serves 2
INGREDIENTS
8 asparagus spears, trimmed
2 tablespoons (30 ml) extra virgin olive oil
Salt and pepper to taste
DIRECTIONS
Cook the asparagus sous vide, if you like, according to the instructions found here and serve warm, straight from the pouch.
If you prefer to cook them on the stovetop:

Bring a pot of water to full boil and add salt to your taste.
Add asparagus spears and cook for 3 to 4 minutes.
Drain and shock in ice cold water to maintain brilliant color.
Right before serving, quickly pan sear with the olive oil and season to taste with salt and pepper.