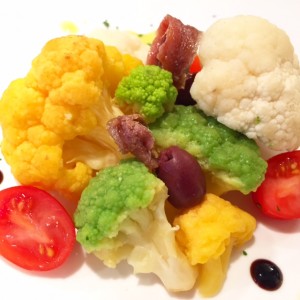 …with Pachino cherry tomatoes, Tuscan olives and anchovies
Courtesy of Chef Sandra Rosy Lotti (Toscana Saporita, A Tuscan Cookery School)
Serves 6 to 8
INGREDIENTS
4 heads assorted broccoli (romanesco, cauliflower, broccoli), washed and cut into florettes
12 cherry tomatoes
10 pitted Tuscan olives
4 anchovy fillets, rinsed from salt and cut in pieces
6 tablespoons (90 ml) extra virgin olive oil, divided use
salt and pepper to taste
DIRECTIONS
Fill and preheat the SousVide Supreme water oven to 183F/84C.
In a bowl, season the broccoli with salt and pepper and drizzle with about half the olive oil, tossing to coat.
Put the seasoned florettes into a cooking pouch and vacuum seal tightly.
Submerge the pouch in the water oven to cook for 45 minutes.
Meanwhile quarter the cherry tomatoes and put them into a bowl with the olives and anchovies.
Once the florettes are cooked, open the pouch and drain away any accumulated liquid. Transfer the broccoli to the bowl containing the olives and anchovies, drizzle with the remaining olive oil, and season to taste with the salt and pepper. Toss and serve.
Share This Recipe with Friends!