BBQ Country Ribs

Courtesy of Scarlett Banks (Made it. Ate it. Loved it.)
Serves 4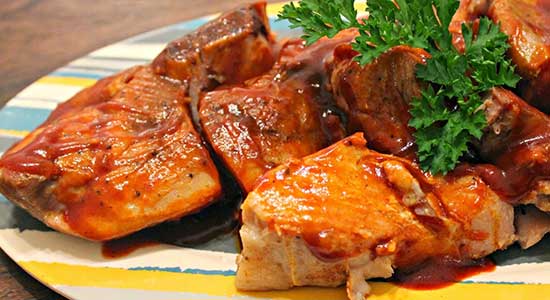 INGREDIENTS
8 meaty country-style ribs
Olive oil
My Favorite Homemade BBQ Sauce (recipe below) or your favorite sauce, for serving
For Scarlett's Steak and Rib Rub
(or you can use your favorite rib rub)
1/4 cup (60 g) Kosher salt
2 tablespoons (30 ml) granulated sugar
2 tablespoons (30 ml) paprika
2 tablespoons (30 ml) cumin
2 tablespoons (30 ml) garlic powder
2 tablespoons (30 ml) chili powder
1 tablespoon (15 ml) mustard powder
1 tablespoon (15 ml) ground black pepper
2 teaspoons (10 ml) cayenne pepper, or to taste
DIRECTIONS
Fill and preheat the SousVide Supreme water oven to 160 to 176F (71 to 80C).
In a small bowl, combine all the rib rub ingredients.
Drizzle the ribs with olive oil and then liberally cover on all sides with the rub.
Put the ribs in a single layer into appropriately sized cooking pouches and vacuum seal.
Submerge the pouches in the water oven, using the pouch rack to separate them, and cook for 18 to 24 hours (Scarlett cooks hers 21 hours.)*
Take out and cover with My Favorite Homemade BBQ Sauce or your own favorite and serve!
*Scarlett elected not to put a sear on her ribs here, and they're delicious without it, but please feel free to brush the cooked ribs with some barbecue sauce and put them onto an oiled, hot grill for just a few minutes to impart that golden color and smoky flavor.
Scarlett's Favorite Homemade BBQ Sauce
(Makes about two quarts (1.8 liters) of barbecue sauce)
INGREDIENTS
4 medium onions, peeled and diced very small
1 cup (240 ml) salad oil
2 1/2 pounds (1 kg) brown sugar
1 #10 can (114 ounces/3.23 kg) ketchup
1 quart (960 ml) cider vinegar
3 tablespoons (45 ml) granulated garlic
4 tablespoons (60 ml) dry mustard
2 tablespoons (30 ml) ground cumin
1/3 cup chile powder
2 tablespoons (30 ml) white pepper
1 tablespoons (15 ml) cayenne pepper, or to taste
2 teaspoons (10 ml) dry oregano
3 ounces (90 ml) Tabasco sauce
4 lemons, juice only
1 cup (240 ml) honey
1 cup (240 ml) molasses
1 tablespoon (15 ml) dry thyme
3 tablespoons (45 ml) salt
1 tablespoon (15 ml) black pepper
DIRECTIONS
Heat the salad oil in a large soup pot over medium heat on the stove top; add the onions and sprinkle them with a tablespoon (15 ml) of the brown sugar.
Caramelize the onions until well browned, but not burned.
Add the remaining ingredients, stir to combine; reduce heat and simmer over low heat for 1 hour, uncovered.
Transfer to clean containers with tight fitting lids and refrigerate.