The Perfect Sous Vide Eggs Benedict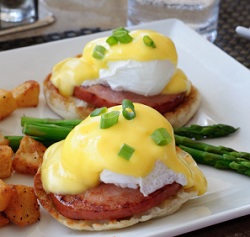 For the eggs benedict:
Time: 1 hour
Temperature:  147F/64C
Serves  2
INGREDIENTS
4 large eggs
4 slices Canadian bacon (or ham)
4 English muffin halves
Dash of paprika
2 sprigs parsley (optional for garnish)
Hollandaise Sauce – (see recipe below, or our sous vide hollandaise recipe)
 INSTRUCTIONS
Fill and preheat the SousVide Supreme to 147F/64C.
Drop the eggs, in their shells, directly into the water bath and cook 1 hour.
Fifteen minutes before the eggs have finished cooking, put Canadian bacon slices into a small skillet on medium heat and brown slightly.  Remove, wrap in foil, and set aside to keep warm.
Five minutes before serving, toast the English muffins to a nice golden brown.
To serve, arrange 2 English muffin halves per plate, top each with Canadian bacon slices.
Crack the perfectly cooked sous vide egg gently onto the Canadian bacon.
Finish with hollandaise, a dash of paprika, and a sprig of parsley for a beautiful presentation to this classic dish.
For the traditional stovetop Hollandaise Sauce
Time: 10 minutes
Serves 2
INGREDIENTS
4 large egg yolks
2 teaspoons (10 ml) lemon juice
4 teaspoons (20 ml) water
2 sticks (0.5 pound/0.23 kg) unsalted butter, melted
Champagne vinegar to taste
Salt to taste
INSTRUCTIONS
In a glass or stainless steel bowl set over a pot of simmering water (be careful not to let the bottom touch the water) whisk the egg yolks with the lemon juice and water until pale yellow in color.
Remove the bowl from the pot and, whisking vigorously, add the melted butter 1 tablespoon at a time, whisking until all the butter is incorporated and the sauce is thickened.  Add a splash of vinegar and salt to taste.
Keep warm until needed over low simmering water or pour the finished sauce into a food-grade cooking pouch, press out the air, seal and drop it into the SousVide Supreme with the eggs.)
Variation:  Try adding a dash of onion powder and garlic powder or even hot sauce to kick it up!