Gyros Burgers Sous Vide

Adapted from The 6 Week Cure for the Middle Aged Middle, Eades and Eades (Crown 2009)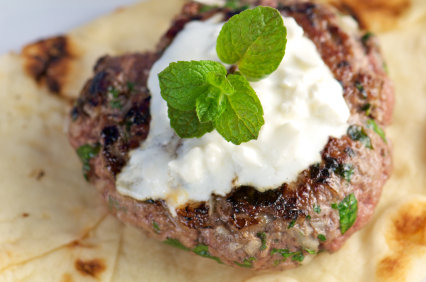 For Gyros Burgers
Serves 4 (Multiplies easily)
INGREDIENTS
For the gyros
4 fresh lamb and mint sausages, about 7 inches (18 cm) long
1 recipe Tzatziki Sauce (see recipe here or page 219 of "The 6 Week Cure" book)
1 recipe Condiment Salad (recipe follows)
For Condiment Salad
1 small white or yellow onion, peeled and diced
Juice of 1/2 lemon
1 medium tomato, diced
Coarse sea salt and freshly ground pepper to taste
1/2 medium cucumber, peeled and diced
1 tablespoon red wine vinegar
2 tablespoons extra-virgin olive oil (Greek if you've got it)
INSTRUCTIONS
For the gyros
Fill and preheat the SousVide Supreme water oven to 140F/60C
Split and peel away the casings of the sausages; discard casings.
Press the link into a flat, thin patty no more than ½-inch thick.
Put no more than 4 patties into a small (quart/liter) cooking pouch and vacuum seal.
Submerge the pouch(es) in the water oven and cook for at least 45 minutes (up to an hour and a half won't affect the texture.)
If not using right away, quick chill the pouches, submerged in an ice water bath (half ice/half water) for at least 30 minutes and refrigerate for up to 48 hours or label and freeze for use up to one year. (Reheat the refrigerated or frozen patties in their pouch in the SousVide Supreme set 140F/60C for about 30 minutes, if refrigerated, to an hour, if frozen, before proceeding.)
Before serving, if desired, sear the surface of the patty under the broiler for a minute or two, or on a lightly oiled skillet or grill over high heat for 30 seconds, or even with a kitchen torch to create a nicely browned crust.
Serve topped with a tablespoon or two of tzatziki sauce and a mound of condiment salad.
For Condiment Salad
Put the onion in a small bowl and cover with water and a splash of the lemon juice.  Let it soak for a few minutes to take away the 'bite'.
Put the onions and all ingredients in a bowl and toss with the olive oil and vinegar.