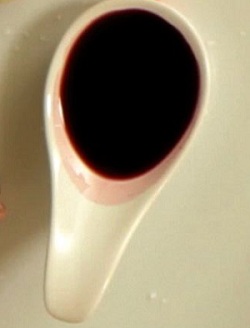 Please note that this is NOT a sous vide but is used to accompany New York Strip Steak Sous Vide. 
INGREDIENTS
1 tablespoon (15 ml) olive oil

1/4 cup (56 g) chopped onion

1 garlic clove, peeled and minced

1 cup (200 g) fresh blueberries

1/2 cup (120 ml) balsamic vinegar

1 cup (240 ml) water

1/2 teaspoon (2.5 ml) salt

1/4 teaspoon (1.25 ml) ground black pepper

1 tablespoon (15 ml) chopped fresh basil

1 tablespoon (14 g) unsalted butter
INSTRUCTIONS
In a large saucepan over medium heat, warm the olive oil.
Add the chopped onions and saute for 2 minutes, until translucent. Add the garlic and saute for another 30 seconds.
Add the blueberries to the pan and continue to cook, stirring often and gently mashing the berries, for 3 minutes.
Add the balsamic vinegar to the pan and bring to a boil, until almost completely reduced, around 5 minutes.
Add the water, salt and pepper to the pan and return to a boil.
Add the basil, reduce heat to a simmer and let infuse for 5 minutes.
Remove from heat and let cool for a few minutes, then puree the sauce until quite smooth in the blender or food processor.
Strain the sauce of solids and return the sauce to the pan. Stir in the butter and serve over steak, lamb, duck confit, or your favorite protein. (It's even tasty over ice cream!)
Share This Recipe with Friends!