New York Strip Steak Sous Vide

Serves 4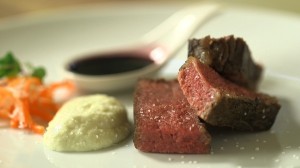 INGREDIENTS
4 (2-inch/5 cm thick) New York strip steaks
salt and black pepper to taste
finely minced fresh rosemary (or other herbs)
4 tablespoons (60 g) rainbow peppercorns, crushed
2 tablespoons (28.5 g) butter
3 garlic cloves, crushed and peeled
INSTRUCTIONS
Fill and preheat the SousVide Supreme to desired serving temperature (134F/56.5C for medium rare; 140F/60C for medium; 150F/65.5C for medium well.)
Sprinkle both sides of meat lightly with salt, pepper, and rosemary.
Vacuum seal each steak in a cooking pouch.
Submerge the pouches in the water oven and for at least 4 hours (and up to 8 is fine.)
When the cooking time has elapsed, remove the steaks for finishing. . (At this point, you may also quick chill the meat submerged in its pouch in an ice water bath for at least 30 minutes and refrigerate for up to 48 hours or freeze for up to a year.)
When ready to finish, put the peppercorns into a shallow plate and have ready. Remove the steaks from the pouches and press each side in the peppercorns to coat.
On the stove top, melt the butter in a skillet over high heat, add the garlic, and brown the surfaces of the steaks in the fragrant butter, about 30 to 60 seconds on each side.
Remove steaks to a warm platter, slice and serve.
Suggestions for serving: Sous Vide Cauliflower Puree, Blueberry Balsamic Reduction, and Carrot and Daikon Quick Pickle.