Carrot and Daikon Quick Pickle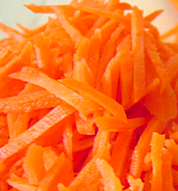 Makes about 3 cups
INGREDIENTS
2 teaspoons (10 ml) kosher salt

1⁄4 cup (48 g) sugar

1⁄2 cup plus 2 tablespoons (135 ml) white vinegar

1/2 cup (120 ml) warm water

1⁄2 pound carrots (228 g) peeled and cut into matchsticks

1 1/2 pounds daikon (228 g) peeled and cut into matchsticks
INSTRUCTIONS
Fill and preheat the SousVide Supreme to 140F/60C.
Put the carrots and daikon into a small (quart/0.9 liter) zip-closure cooking pouch (or chamber vacuum pouch.)
In a bowl, whisk together the salt, sugar, vinegar, and water and pour the mixture over the vegetables.
Use the displacement method (Archimedes' principle) to remove the air from the zip-closure pouch and zip the seal (or vacuum seal in the chamber vacuum.)
Submerge the pouch in the water oven to cook for 15 minutes.
Remove the pouch from the water oven and quick chill, submerged in an ice water bath for 15 minutes.
Refrigerate for use within 4 weeks.