Makes 8 ounces (240 ml)
Choose vibrant red stalks of rhubarb for best color!
INGREDIENTS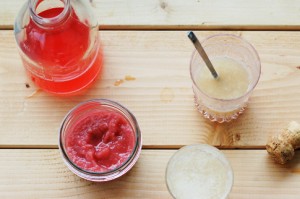 1/2 pound (228 g) rhubarb, cleaned, trimmed of leaves and cut into ¼" (0.6 cm) pieces

1 cup (7 oz/ 200 g) organic sugar

1/2 cup (4 fl oz/ 240 ml) water

1 teaspoon (5 ml) rose water
INSTRUCTIONS
Fill and preheat the water oven to 135F/57C.
Put the rhubarb into a large (1 gallon/3.8 liter) zip-closure cooking pouch.
In a small saucepan, heat the sugar and water over medium-high heat, stirring until the sugar is dissolved.
Pour the sugar syrup over the rhubarb, use the displacement method (Archimedes' Principle) to remove as much air as possible from the pouch, and zip closed.
Submerge the pouch in the water oven and cook for 2 hours. The contents must be completely submerged to ensure even cooking.
Remove the pouch and submerge it in an ice water bath (half ice, half water) for 20 minutes to quick-chill the contents.
Strain the syrup through a fine mesh sieve into a clean bottle and stir in the rose water. Keep the rhubarb for the Sous Vide Rhubarb Compote.
Store the syrup in an air-tight glass bottle, in the refrigerator for up to 4 weeks.
Use the syrup to make delicious Rhubarb Rose Bellinis.
Share This Recipe with Friends!