Courtesy of Staff Blogger, Madeline Fiore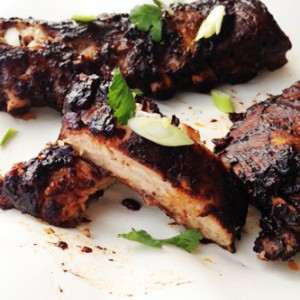 Serves 4 as an entree, 8 as an appetizer
INGREDIENTS
2 racks baby back pork ribs
Sea salt and freshly ground black pepper, to taste
Chocolate Chili Barbecue Sauce (or your favorite sauce)
1 to 2 limes, cut into wedges, for garnish
Green onions and cilantro, for garnish
INSTRUCTIONS
Fill and preheat the SousVide Supreme to 143F/61.5C.
Pull the silver skin from the back side of the rib racks and cut the each rack in half.
Season the racks generously with salt and pepper.
Put two half racks into a large (gallon/3.8 liter) cooking pouch and vacuum seal.
Submerge in the water oven and cook for 12 to 48 hours.
Preheat an oiled grill, grill pan, or broiler.
Remove the racks from the pouches and brush them all over with the barbecue sauce.
Sear the racks on the hot oiled grill for 30 seconds to 1 minute per side.
If you don't have a grill, sear under the broiler for approximately 1 minute or until caramelized.
Garnishing the ribs with chopped green onions, cilantro and fresh lime wedges.
Share This Recipe with Friends!