Sous Vide Strawberry Daiquiri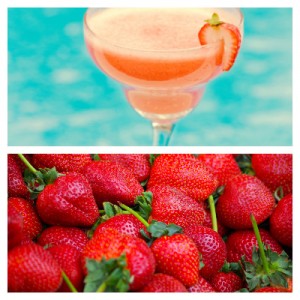 INGREDIENTS
For the puree (Makes 750 ml)
1 'fifth' (750 ml) clear rum
4 lemons
4 limes
1 pint (300 g) fresh, ripe strawberries, stemmed and quartered
Simple Syrup, chilled
For the cocktail (Makes 1 cocktail)
2 ounces infused rum
1 ounce simple syrup
1 ounce strawberry puree
Ice
Whole fresh strawberry, for garnish
INSTRUCTIONS
For the puree
Fill and preheat the SousVide Supreme to 135F/57C.
With a sharp knife, peel the zest from the lemons and limes and carefully scrape away any white pith.
Juice the lemons and limes.
Put the rum, lemon and lime juice and zest, and strawberries into a large (gallon/3.8 liter) zip-closure cooking pouch.  Use the displacement method (Archimedes Principle) to remove the air and zip the seal.
Submerge the pouch to cook for 2 hours.
Remove the pouch and quick chill for 15 minutes, submerged in an ice water bath (half ice/half water).
Strain out the solids, reserving the strawberries.  Pour the infused rum into a clean bottle with a stopper or screwtop (the one it came out of works fine.)  Chill very well.
Puree the cooked strawberries and chill.
For the cocktail 
In a cocktail shaker, with ice cubes, put all ingredients and shake well.
Pour into a chilled, stemmed cocktail glass.
Halve the strawberry almost through from tip to stem and position on the edge of the glass.