Vivian's Tenderloin (or Hanger or Sirloin) Steak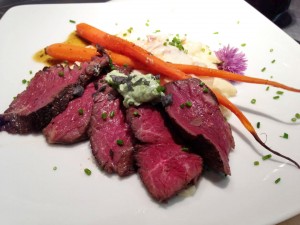 Courtesy of Vivian Peterson of V Top Secret Chef
Serves 4
INGREDIENTS
4 (8 ounce/225 g each) pieces of hanger steak, tenderloin, or sirloin fillets
Kosher or truffle salt, to taste
Freshly ground black pepper, to taste
12 sprigs thyme (optional)
2 garlic cloves (optional)
2 shallots, peeled and thinly sliced
2 tablespoons (30 ml) high-smoke point oil
INSTRUCTIONS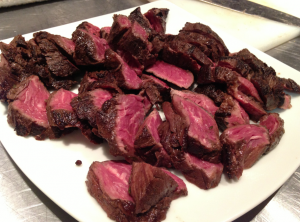 Fill and preheat the SousVide Supreme to your preferred temperature for steak (rare – 120F/49C; medium rare – 130F/54.5C; medium – 140F/60C; medium well – 150F/65.5C; well done – 160F/71C)
Season steaks generously with salt and pepper.
Put the fillets in a single layer into cooking pouch(es), along with thyme and garlic if using, and vacuum seal.
Submerge the pouch(es) in water oven to cook for at least 45 minutes to one hour (tenderloin) and at least 4 and up to 12 hours (sirloin or hanger steak) for a 1-inch-thick/2.5 cm steak.
When ready to serve, add oil to heavy bottomed stainless steel or cast iron skillet over high heat until oil is beginning to smoke.
Remove steaks from pouch(es) and carefully pat dry on paper towels.
Sear the steaks in the smoking oil until well browned on both sides, about 2 minutes total. Serve!
Delicious with Vivian's Sous Vide Rainbow Carrots and Dauphinois Gratin (Potatoes au Gratin).
Learn more about this Seattle Sous Vide Cooking class here.