Short Rib Tacos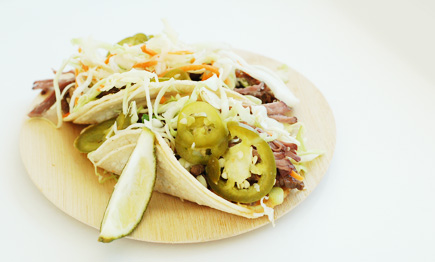 Courtesy of SousVide Supreme Culinary Specialist, Madeline Fiore
Serves 4
INGREDIENTS
½ small green cabbage, shredded
2 carrots, peeled and julienned
4 green onions, thinly sliced
1 small handful, cilantro
3 tablespoons (45 ml) canola oil
2 to 4 pinches sea salt
¼ cup (40 g) sesame seeds, toasted (optional)
1 teaspoon (5 ml) ground cumin
½ teaspoon (2.5 ml) ground coriander
½ teaspoon (2.5 ml) ground smoked paprika
2 to 4 Madeline's Sous Vide Short Ribs, meat flaked from bone and pulled apart
16 small-medium corn tortillas
1 cup (120 ml) sour cream
2 to 4 tablespoons (30 to 60 ml) hot sauce (your favorite type)
1 lemon, for zest
Optional Garnishes: Pickled Jalapenos, lime wedges, Cotija cheese, avocado slices
DIRECTIONS
In a large bowl toss together the cabbage, carrots, green onions, cilantro, and optional toasted sesame seeds.
In a small bowl whisk together the sour cream, hot sauce, and lemon zest; season to taste with salt and set aside.
Heat a large skillet over medium-high heat and, once warm, add the canola oil, cumin, coriander and smoked paprika. Let the spices cook in the oil for about 30 seconds to 1 minute, then add the flaked meat from the short ribs. Let cook until warmed through, about 3 minutes. Keep warm until ready to serve.
Heat another skillet or griddle over medium-high heat and warm the tortillas. Alternatively, heat quickly, 15-20 seconds per side, under the broiler or over a gas burner; it's okay if you end up with a few blackened blisters.
Assemble the tacos by stacking two corn tortillas on top of each other. Slather one side with spicy sour cream mixture and fill with flaked short rib meat, cabbage mixture, and garnish of your choosing. Fold in half and serve while warm.