Vegetable Flatbread Wrap with Spicy Bean Dip

Courtesy of SousVide Supreme Culinary Specialist, Sophie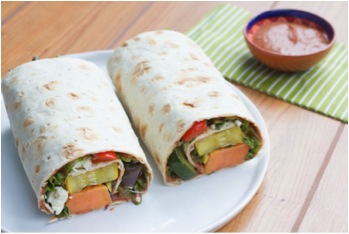 Serves 4
INGREDIENTS
For the bean dip
1 tablespoon (15ml) of olive oil

1 small onion, peeled and diced

2 cloves of garlic, peeled and crushed

½ teaspoon (2.5 ml) ground cumin

1 teaspoon (5 ml) chili powder

1 can (15 ounces/425g) red kidney beans

1 tablespoon (15ml) tomato paste

Salt and pepper, to taste

Squeeze of lemon juice, to taste
For the flatbread sandwich (wrap)
4 flat breads (tortilla wraps)

1 recipe Spicy Kidney Bean Dip (you'll have some left)

1 cup (240 ml)

sous vide cooked vegetables

Baby leaf lettuce

Feta
DIRECTIONS
For the bean dip
Put the olive oil into a medium-sized saucepan over medium heat.

Add the diced onions and cook for a few minutes until soft and translucent.

Add the crushed garlic, cumin and chili and continue to cook for a few minutes until the garlic is softened.

Stir the kidney beans, including the liquid, into the onion mixture. Then, using an immersion blender or a food processor, puree the beans and onions until they form a smooth paste.

Taste and add salt and pepper and a touch of lemon juice if needed. You can also add more chili at this point, if you prefer more heat.
For the flatbread sandwiches (wraps)
Lay the flat bread (wrap) on a board or clean surface, spoon about a tablespoon of the red kidney bean dip onto the center, and spread it evenly to the edges.

Arrange a quarter cup (60 ml) or more of the sous vide vegetables on top of the flatbread (wrap) and scatter some lettuce leaves and crumbled feta on top.

Fold the flatbread (wrap) sides toward the center, roll burrito-style, and serve.