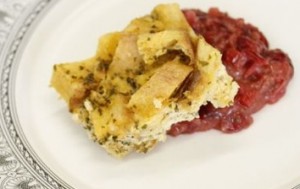 Serves 4 to 6
Note: This is not a sous vide recipe. It accompanies the sous vide cooked Sous Vide Sage Turkey Breast with Cranberry Shallot Sauce.

INGREDIENTS
½ cup (102 g) minced shallots or sweet onions
1-3/4 teaspoons (8 ml) sea salt
1 tablespoon (15 ml) minced fresh thyme
1 tablespoon (15 ml) minced fresh sage
¼ cup (10 g) minced fresh Italian parsley
1 tablespoon (15 ml) tomato paste
1 teaspoon (5 ml) Dijon mustard
1 cup (170 g) chopped roasted chestnuts (roughly ½-inch/1.3 cm pieces)
½ cup (120 ml) dry vermouth
5 large eggs
½ cup (90 g) grated Parmigiano Reggiano
2 cups (480 ml) half and half (light cream)
1 cup (240 ml) heavy whipping cream
6 cups (540 g) fresh or day old bread cubes (about 1-inch/2.5 cm in size)
Freshly cracked black pepper
DIRECTIONS
Preheat the conventional oven to 350F/176C.
Spread the bread cubes in an even layer on a baking sheet and bake them in the oven for 10 minutes.
Prepare a 9 x 12-inch (23×35 cm) baking dish with butter or non-stick spray.
In a medium sauté pan over medium-high heat, sauté the shallots in the butter with 1/2 teaspoon of the salt and some black pepper until softened (about 3 to 4 minutes).
Stir in the herbs, tomato paste, and Dijon mustard and continue to cook for 1 minute more.
Increase the heat to high, remove the pan from the heat, add the vermouth and return the pan to the heat. Simmer until all the liquid has evaporated, remove from the heat, and set aside.
In a separate, very large bowl, beat the eggs. Whisk in the parmigiano reggiano, cream, half and half, and tomato mixture.
Mix the bread cubes and chestnuts into the egg mixture along with the remaining salt.
Pour the bread mixture into the baking dish and let sit, uncovered, for 15 minutes.
Cover the baking dish with foil and bake the bread pudding in the oven for 30 minutes; remove the foil and increase the heat to 375F/190C and continue to bake until the pudding has browned on top (15 to 20 minutes).
Remove from the oven, let cool until sliceable, then cut into portions & serve.
Share This Recipe with Friends!