Turkey Breast with Cranberry-Shallot Sauce

Serves 4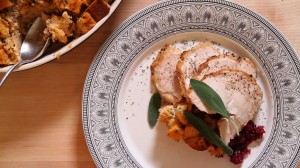 INGREDIENTS

For the turkey:
1 turkey breast half, deboned, skin on
2 strips lemon peel, about ½ x 2 inches (1.3 x 5 cm)
4 leaves fresh sage
2 tablespoons (28 g) unsalted butter
1 tablespoon (15 ml) extra virgin olive oil
Salt and pepper
For the sauce:
1 tablespoons (14 g) unsalted butter
1 tablespoon (15 ml) extra virgin olive oil
½ cup (102 g ) minced shallots
¼ cup(60 ml) dry white wine
1 cup (99 g) whole cranberries, fresh or frozen
½ cup (120 ml) low-sodium chicken broth
¼ cup (60 ml) maple syrup (or more to taste)
2 teaspoons (10 ml) cider vinegar
2 teaspoons (10 ml) Dijon mustard
1 teaspoon (5 ml) chopped fresh sage
3/4 teaspoon (7.5 ml) sea salt
Freshly ground black pepper
DIRECTIONS
Fill and preheat the SousVide Supreme water oven to 145F/62.5C.
Season the turkey breast on all sides with salt and pepper.
Put it into a cooking pouch with the lemon peel, whole sage leaves, and 1 tablespoon of the butter.
Vacuum seal the pouch and submerge it in the water oven to cook for 3 hours.
Remove the turkey breast from the pouch and dry off any surface moisture with paper towels. (Reserve the juices from the pouch).
Heat a medium sauté pan over medium-high heat, add the remaining tablespoon of butter and the olive oil to the pan and quickly sear the turkey breast just until the skin is brown and crisp.
Remove the turkey to a clean, warm plate and loosely cover it with aluminum foil.
Make the sauce:

In the same sauté pan used to sear the turkey, melt the olive oil and butter over medium high heat; add the shallots and cook until they are soft, about 3 to 4 minutes.
Deglaze the pan with the white wine, scraping any browned bits off of the bottom of the pan.
Add the cranberries, chicken broth, maple syrup, cider vinegar, mustard, salt, pepper, and the pouch juices; cook, whisking occasionally, until the cranberries soften and the liquid has reduced, about 6 to 8 minutes.
Add the chopped sage and continue to cook for another minute, then add any juices that have collected on the turkey's resting plate.
Taste and add adjust seasonings with salt, maple syrup and/dor vinegar, if desired.

Slice and serve the turkey, along with the sauce and Savory Chestnut and Herb Bread Pudding or your choice of sides.