Courtesy of Culinary Specialist, Madeline Fiore
Serves 4
For pasta fresca, it's important to have a scale on hand and to use Italian flour, Tipo 00 (milled extra fine). There's nothing quite as satisfying as making your own fresh pasta!  So now that the SousVide Supreme has done all of the work for you in making a lusciously rich chicken stock, you have a little work cut out for yourself!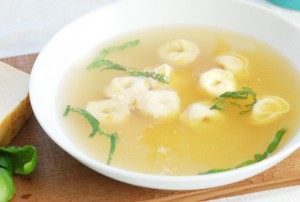 INGREDIENTS FOR PASTA FRESCA
18 ounces (510 g) Tipo 00 flour
5 eggs
48 fluid ounces (1.42 l) sous vide chicken stock
4 pinches sea salt
Freshly grated Parmesan cheese, to taste
DIRECTIONS FOR PASTA FRESCA
Mound the flour onto on a clean counter top, or in a bowl.
Create a well in the middle of the flour and crack the eggs into it.
Using a fork, beat the eggs until smooth and gently incorporate all of the flour into the egg mixture.
Flour your hands and knead the dough.  If the dough is feeling a bit too sticky then add a bit more flour, if the dough is feeling too dry then run your hands under cold water and knead the dough.
Knead for about 5 minutes.  Your aim is for silky and elastic dough, once you've reached this lovely consistency, cover the dough with plastic wrap and leave it to rest on the counter for about half an hour while you make your filling.  Recipe below.
Using a pasta machine or if you are ambitious using a rolling pin, roll the dough into a thin sheet.  I typically start at the widest setting and work my way down to the second narrowest setting.
Cut the dough into approximately 3-inch (7.5 cm) squares.
Working quickly, center approximately 1 teaspoon (5 ml) of filling in each square.
Fold the squares corner to corner into triangles, then wrap each triangle around your index finger and press the points together, gently pushing the remaining dough backwards.
Bring the chicken broth to a boil on the stovetop, drop the tortellini, and cook for 3 to 4 minutes.  Serve in a bowl with hot broth, freshly grated Parmesan cheese, and a sprinkling of sea salt
INGREDIENTS FOR TORTELLINI FILLING
2 tablespoons (28 g) butter
4 ounces (113 g) ground veal or a mixture of ground chicken and pork
2 ounces (57 g) Parmesan cheese, freshly grated
4 ounces (113 g) prosciutto, diced
2 ounces (28 g) mortadella, diced
1 egg
½ teaspoon (2.5 ml) freshly grated nutmeg
DIRECTIONS FOR TORTELLINI FILLING
On the stovetop, melt the butter in a small pan, add the veal, and cook over medium-high heat, stirring frequently until browned.  Transfer to a bowl.
Using a food processor, fitted with the blade attachment, process the prosciutto and mortadella until ground together.
Put the prosciutto-mortadella mixture into the bowl with the cooked veal and stir in the remaining ingredients until well mixed.
Share This Recipe with Friends!