Habanero Margarita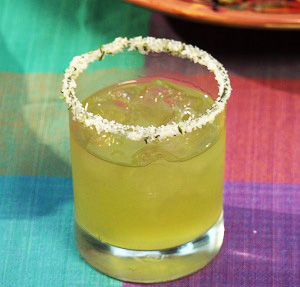 Courtesy of Rex Bird
Makes 1 cocktail
INGREDIENTS
2 ounces (60 ml) habanero-infused tequilla
1 ounce (30 ml) Grand Marnier
3 ounces (90 ml) fresh-squeezed lime juice
Ice for shaking
Salt for rimming glasses
DIRECTIONS
Put ice into a cocktail shaker, pour in the ingredients, and shake thoroughly, until well chilled.
Serve over fresh ice in a salt-rimmed glass and garnish with a thin slice of lime.
**Make a batch for the whole crowd! Just measure in 'parts' not 'ounces' and put ingredients into a large container with ice. Stir until well chilled. Remove residual ice to prevention dilution. Pour chilled margarita mixture into pitchers and keep cold for serving over ice with our without salt.