Festive Ham

Adapted from Sous Vide: The Art of Precision Cooking
Serves 8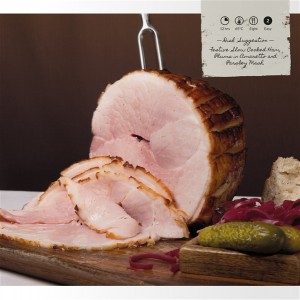 INGREDIENTS
1 (5 to 6 ½ pound/2.5 to 3 kg) boneless ham
5 tablespoons (80 g) Dijon mustard
3 ½ tablespoons (65 g) maple syrup
3 ½ tablespoons (65 g) honey
2 oranges (peel only)
2 teaspoons (10 ml) Mixed Spice Powder (recipe follows)
6 bay leaves
6 pods star anise
6 ½ ounces (200 ml) cola
20 juniper berries
1 teaspoon (5 ml) chopped thyme
1/3 cup (100 ml) ginger syrup
6 whole cloves
DIRECTIONS
Fill and preheat the SousVide Supreme water oven to 149F/65C.
Put all ingredients, except the ham, in a saucepan on the stovetop and gently simmer for 15 minutes. Set aside to cool.
Put the ham into a large cooking pouch, pour the cool liquor over it, and vacuum seal. (Take care, with suction sealers, not to allow liquid to be sucked into the suction portal. If you sealer has a Moist sealing option, use it to create a stronger seal. See tips for sealing liquid rich foods, here.)
Submerge the pouch in the water oven to cook for 12 hours.
Just before the cooking time has elapsed, or when ready to finish and serve, preheat the conventional oven to 400F/200C.
Remove the ham from its pouch and transfer to a roasting pan and roast in the hot oven for 10 minutes for lovely, crispy fat.
Transfer to a platter, slice, and enjoy with your favorite side dishes.
Mixed Spice Powder
Makes about ½ cup (120 ml)
4 tablespoons (60 ml) cinnamon, ground
4 teaspoons (20 ml) coriander, ground
4 teaspoons (20 ml) nutmeg, ground
2 teaspoons (10 ml) ginger, ground
1 teaspoon (5 ml) allspice, ground
1 teaspoon (5 ml) cloves, ground
DIRECTIONS
Mix all ingredients together and store in an airtight container for up to several months. Use in this ham recipe and, traditionally, in cakes, pies, and fruit.