Basic Herb Scented Turkey Breast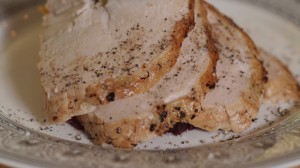 Serves 4 (doubles easily – cook in multiple pouches)
INGREDIENTS
1 turkey breast half, deboned, skin on
2 cups (480 ml) water
4 tablespoons (60 ml) kosher salt
10 black peppercorns
Freshly ground black pepper
4 leaves fresh sage
3 tablespoons (42 g) unsalted butter, divided use
2 cloves roasted garlic, finely minced
1 tablespoon (15 ml) extra virgin olive oil
DIRECTIONS
In a large (gallon) zip closure bag, mix the water and kosher salt until dissolved.  Add the peppercorns and turkey breast, zip the seal, and refrigerate for at least 4 hours to brine.
Fill and preheat the SousVide Supreme water oven to 146F/62.5C.
Remove the turkey from the brine, rinse, and pat dry. Discard brine.
Season the turkey breast on all sides with black pepper.
Put the breast into a cooking pouch and add the garlic, sage leaves, and 2 tablespoons (28 g) of the butter.
Vacuum seal the pouch and submerge it in the water oven to cook for 3 to 4 hours.
Remove the turkey breast from the pouch and pat dry with paper towels. (Reserve the pouch juices to make a sauce or gravy, if desired.)
To finish:

Heat the oven broiler to high heat.
Melt the remaining tablespoon of butter and brush the surface of the turkey with it.
Sear the turkey breast under the broiler for about 5 minutes until the skin is brown and crisp.

Remove from the oven and keep warm under a tent of foil.
Slice and serve with Cranberry Sauce.