Wagyu Beef Tenderloin and Green Beans

Recipe courtesy of Quinn Rudee; Wagyu courtesy of Lone Mountain Wagyu. 
Serves 2 (multiplies easily, but keep filets 2 to a pouch in a single layer)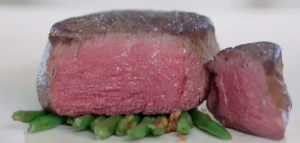 INGREDIENTS
2 Wagyu (or other quality beef) tenderloin filets about 2-inches (5 cm) thick
salt and pepper to taste
2 sprigs fresh rosemary, divided use
1 recipe sous vide cooked Green Beans with Bacon (in their pouch)
1 tablespoon (15 ml) high-smoke point vegetable oil
2 tablespoons (28 g) unsalted butter
DIRECTIONS
Fill and preheat the SousVide Supreme water oven to 130F/54.5 C.
Season the filets with salt and pepper and put them into a small (quart/0.9 liter) cooking pouch. Add a sprig of rosemary to the pouch and vacuum seal.
Submerge in the water oven to cook for at least 2 1/2 hours and up to 4 hours.
In the last 30 minutes of cooking time, add the pouch of cooked green beans to the water oven to reheat.
Remove the fillets, pat dry with paper towels.
On the stovetop, in a skillet over high heat, add the vegetable oil and when very hot, sear the filets on one side for a minute, then flip them and add the butter and remaining sprig of rosemary to the pan. Baste the meat with the butter for another minute for form a mahogany crust on both sides.  Roll the edges of the filet in the hot skillet if you like to brown them.
7. Serve with the green beans.