The Vintage Pink Lady

Courtesy of Michael Cadden, Tavern Law, Seattle, WA
(A modernist's take on a speakeasy vintage classic.)
Makes 1 cocktail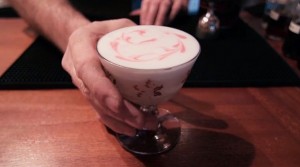 INGREDIENTS
1 ½ ounces (45 ml) gin
¾ ounce (22 ml) sous vide infused Pear Shrub
½ ounce (15 ml) fresh lemon juice
¼ ounce (7.5 ml) Demerara simple syrup*
2 dashes bitters (Old Fashioned Barrel Aged Fee Brothers Bitters preferred)
1 egg white
Ice cubes as needed
Fresh cranberry juice for decoration
DIRECTIONS
Combine all ingredients, except the ice cubes and cranberry juice, in a mixing tin set (cocktail shaker). Add the spring of a Hawthorn strainer, if you have it, as it helps whip the egg whites and dry shake for 1 minute.
Open, take out the spring, add the ice, and shake for another minute.
Double strain through a Hawthorn strainer and a fine mesh strainer into a flip glass or large coupe-style cocktail glass.
Let sit for 30 seconds before adding drops of fresh cranberry juice to decorate; get creative with the swirling.
Imbibe.
*Demerara Simple Syrup can be made easily following the standard SousVide Simple Syrup recipe, but substituting Demerara sugar for the castor sugar in the recipe.