Sous Vide Duck Carnitas Nachos

Serves 6 to 8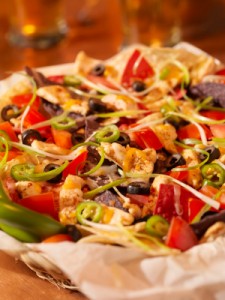 INGREDIENTS
1 recipe Sous Vide Duck Confit Carnitas
1 recipe Sous Vide Queso Blanco Dip
2 tomatoes, stemmed, seeded, and diced
4 green onions, washed, trimmed and chopped
1 can (2-1/2 ounces/ 64 g) sliced black olives
1 avocado, peeled, seeded, and diced
1/2 teaspoon (2.5 ml) salt
1/4 teaspoon (1.25 ml) cumin
1/4 teaspoon (1.25 ml) Mexican chili powder
1 large bag restaurant style tortilla chips
1/2 head iceberg lettuce, washed, trimmed, and shredded
1 can ( 4 ounces/ 113 g) sliced jalapenos, hot medium or mild
1 handful cilantro, washed, trimmed and chopped
INSTRUCTIONS
Prepare the Duck Confit Carnitas and the Cheese Dip as per recipe instructions and have warm and ready. 

In a bowl, mix the tomatoes, green onions, olives, avocado, salt, cumin and chili powder together.
On a large platter, spread the lettuce to make a bed and top with the tortilla chips.
Pour the cheese dip evenly over the tortillas, then distribute the duck, jalapenos, and tomato mixture.
Garnish with the cilantro and serve.