Custard Gelato

Courtesy of Vivian Peterson of V Top Secret Chef
Makes 6 to 8 servings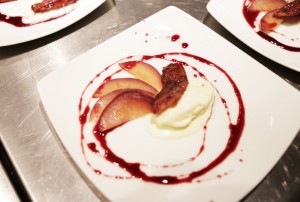 INGREDIENTS
2 ¼ cups (540 ml) whole milk
Pinch of salt
2/3 cups (125 g) sugar
6 egg yolks
2/3 cup (156 ml) heavy cream
INSTRUCTIONS
Fill and preheat the SousVide Supreme to 180F/82C.
In a blender or food processor, blend the sugar and egg yolks together until very thick and smooth. With the machine running, add the milk and continue to blend for a minute to thoroughly mix.
Pour the mixture into a large (gallon/3.8 liter) zip-closure cooking pouch and use the displacement method (Archimedes' Principle) to remove the air and zip the seal.
Submerge pouch in the water oven to cook for 20 minutes. Pull the pouch from the water oven once or twice during cooking and agitate the contents, then return to the water bath.
Remove the pouch from the water bath and quick chill, submerged in ice water (half ice/half water) for 20 minutes, then refrigerate for 2 hours or until thoroughly chilled.
When ready to churn, in a deep bowl, beat the cream until soft peaks form and fold the whipped cream into the custard mixture.
Transfer the custard mixture to an ice cream maker and freeze according to maker's instructions.
Serve with Vivian's Red Wine Poached Pears and  Candied Bacon for a real taste treat!
Learn more about this Seattle Sous Vide Cooking class here.